Bringing the power of data to agri-food
Tim Lougheed
September 13, 2023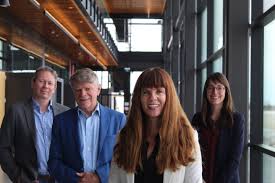 TheoryMesh co-founders Chris Bunio, Paul Westdal, Stephanie Westdal, and Anne Kirk.
When the covid-19 pandemic hit in 2020, Chris Bunio found himself in Seattle, where he was struck by the breakdown of the food supply chain.
"There were shortages of things you should not have shortages of," he recalled for Research Money, pointing to problems with the processing of raw materials and transportation of finished goods, which were interfering with a system that should still have had enough food to go around.
Later in the year, after returning to his native Winnipeg, he was again struck, this time by how well the Canadian food chain was operating in comparison to the one he had left in the United States. He credited this success to the regulatory functioning of government bodies like the Canadian Food Inspection Agency, as well as the diversity of food suppliers, which provided the efficiency and resilience necessary to keep products moving from producers to consumers.
The experience prompted Bunio to launch TheoryMesh, a software company to build on the strengths of Canadian food production and distribution. More specifically, he wanted the start-up to apply the data processing capabilities of artificial intelligence (AI) and blockchain encryption technology, as tools for addressing some of the greatest challenges facing global nutrition.
The customers for this new venture, he explained, are primarily multi-ingredient food manufacturers, who can benefit from detailed analyses of inputs and outputs, from farms to grocery store aisles.
"We're trying to find connections between activities on the farm that actually create sustainable, positive outcomes," said Bunio. For instance, as an individual with a gluten allergy, he noted how AI could help producers deal with this contaminant in their output, by enabling a rapid review of every production step where it might have entered the system.
Similarly, AI can examine the structural causes resulting in as much as 30-40 percent of all food being wasted. Even a modest decrease in this proportion could have a major impact, not just in making more food available to the market, but in making better use of nitrogen-based fertilizers, which necessarily contribute to greenhouse gas emissions.
At first glance, tackling such a complex, dynamic production network, with linkages that can span the globe, would appear to be a daunting task. But with the right kind of data, Bunio insisted, AI makes the job straightforward.
"This is where data becomes your friend," he said, offering the example of how to balance fertilizer use with environmental effects. "It's hard to pick it apart and say, 'this is the way I should be adjusting my system.'"
Bunio regarded blockchain technology, made internationally notorious for introducing radical changes in finance, as another friend to agri-food.
"In essence, it brings together things that are good about databases with things that are good about distributed systems, with the idea that you can map that into real-world assets," he suggested.
The results may even seem to be counter-intuitive, perhaps making the case for some countries to invest in agricultural operations in other parts of the world, where the returns on these investments will be higher and the contribution to climate change lower.
TheoryMesh is also part of Protein Industries Canada, allowing the company to interact with a wide range of others in the agri-food sector.
"It's a great group and they bring a lot of expertise, and a lot of really good insight," said Bunio. "The network is phenomenal; you've got big companies, small companies, all kinds of players in there."
He singled out the network's AI program, with a budget of $30 million until 2026, as especially promising.
"It's great to see the country investing in that kind of technology, focused on food. It's a leading program worldwide. We don't know of any other place that's got that kind of technology application in food."
At the same time, Bunio acknowledged how much of the global agricultural sector has yet to be standardized and digitized, a shortcoming he treated as all the more reason to ensure the innovation transforming so many other sectors also brings progress to this fundamental aspect of our quality of life.
"It's going to take a rethinking of this, across value chains, to get to that level," he concluded. "Just growing more food in some field in Saskatchewan isn't the answer. It's got to be that, connected with food processing, connected with the right transportation in the right place — the whole value chain. Pandemics and wars and whatever else are going to mess that up, but if we're not resilient in building those new data systems, we're not going to get there."
R$