Wheels turning for an out-of-this-world road trip
Elizabeth Howell
February 1, 2023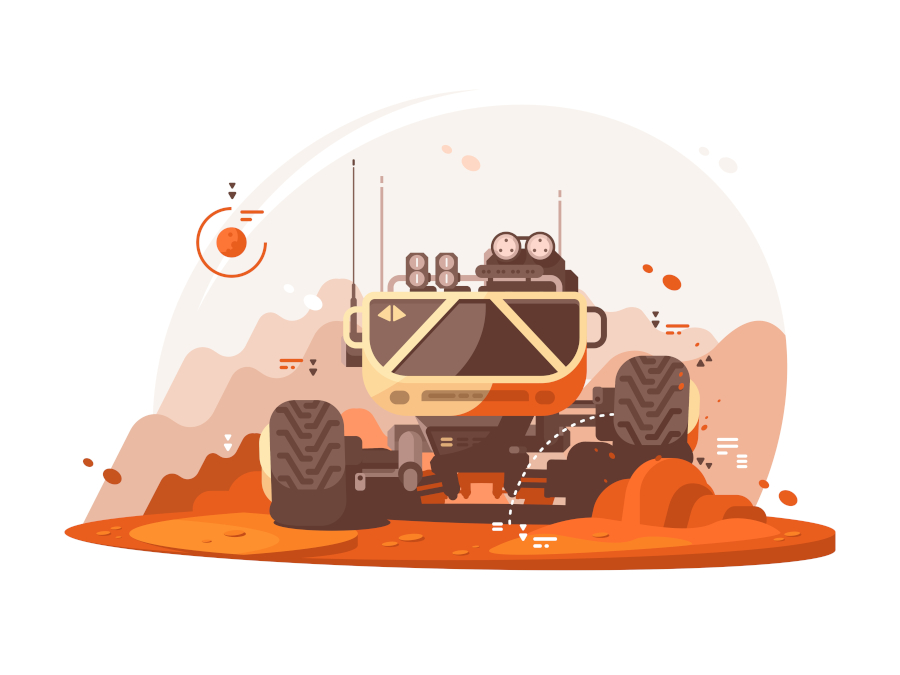 A coalition of Canadians are readying for their first lunar expedition.
A $43 million microrover, constructed by Caledon, Ontario-based Canadensys Aerospace, is set to fly to the moon in 2026 as part of a Canadian Space Agency (CSA) program to bring our country's technology and science to the moon. Next steps are flowing along quickly, including the first meetings to select a landing site.
"We need to have a good idea of where we — as a Canadian community — want to go on the surface of the moon. That's really exciting to me," Gordon Osinski, principal investigator on the project, and a long-time planetary geology professor at Western University, told Research Money.
Canada is participating in the NASA-led Artemis moon program in a big way. Headlines usually discuss American, Canadian, Japanese, and other astronauts, conducting moon-orbiting and moon-landing missions later in the decade. As exciting as that may be, they will be accompanied by a fascinating fleet of robotic spacecraft, some of which include instruments funded through the CSA's Lunar Exploration Accelerator Program (LEAP), which in 2020 received $150 million in government funding over five years.
The Canadian microrover will get a ride to the moon on a member of NASA's robotic explorer program, called Commercial Lunar Payload Services (CLPS).
Canada has been working on rovers for decades. A significant push came in the early 2010s, when the Canadian Space Agency received stimulus funding for development of several rover prototypes, which have been used for years since on sand, mountainsides, and other dusty and rugged environments similar to planetary exploration.
Canadensys has been right in the thick of it. In a project starting in 2014, the company worked alongside project leader, New Hamburg, Ontario-based Ontario Drive & Gear, to develop two lunar rover prototypes with different kinds of drivetrains, seen here and here. These drivetrains were tested in environments similar to the moon, meaning in a vacuum, with hot and cold temperature extremes and in dusty conditions.
"This contract is a testament to that hard work, and we are humbled to have been given this remarkable opportunity to lead such a renowned international team to the moon," Christian Sallaberger, president and CEO at Canadensys, said in a recent statement about the microrover project.
Microrovers are also mentioned frequently in a document outlining Canadian science and space health priorities in the 2020s. The 2017 document, called Canadian Space Exploration, is akin to the U.S. decadal science surveys, driving much of our southern neighbours' space priorities. Osinski noted a new version for Canada is in the works right now.
Microrovers, the document states, are useful in areas like searching for life on Mars, as part of a larger set of "astrobiological planetary exploration". But they would need to work alongside drills and other tools, to probe under the surface where life may lurk. Just to be clear, no one is suggesting life on the moon, but lunar exploration will serve as a key proving ground for any Canadian-led mission on the long haul to the Red Planet.
The microrover weighs in at 30 kg — a mere fraction of the 1,025 kg Martian rover Perseverance. However, NASA's Jet Propulsion Laboratory was similarly conservative when it started its robotic rover program in the 1990s. For instance, the first-ever Mars rover, Sojourner, had a mass of just 11.5 kg.
The CSA frames the microrover as a technology demonstration, but it will still represent a big effort. It will include several science payloads from Canada and the U.S., seeking to answer as many questions as feasible, about lunar geology and the implications for how planets and smaller bodies are formed.
In Canada, Osinski said, the top priorities of the community include planetary surface processes — referring to volcanoes, craters, and other geological processes of change. Volatiles, or lightweight elements like water, are also a priority, given that NASA is trying to mine water from the south pole of the moon to reduce shipment needs from Earth.
"There's a lot of science questions about how water got there [on the surface], how long it has been there — and of course, it's a resource as well," Osinski said.
In the coming months, he will not only be working on the science priorities of the mission, but he also pledged to continue community engagement, including students, contractors, the public and other folks that are interested in the rover mission.
Part of the larger span of such missions, is also to understand how best to serve remote communities on Earth. In the near future, we may be able to repurpose some of the work done on the moon to continue doing compact science in Canada's far north or other rugged environments. Lunar and Canadian science are therefore looking up — and around.
R$