Facing up to fake
Leah Geller
February 1, 2023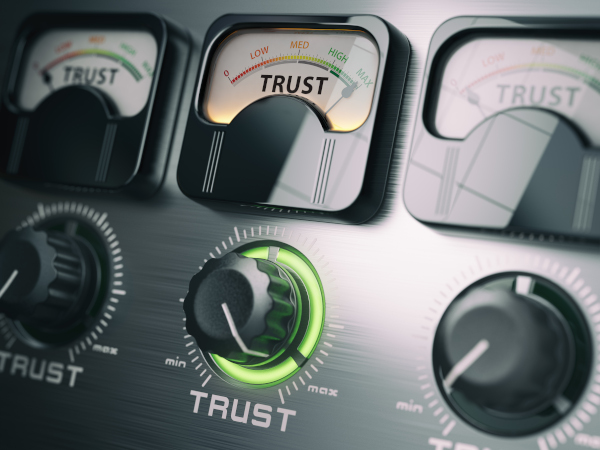 In 2022, a startling video of actor Morgan Freeman went viral. In it, he welcomed viewers to the era of "synthetic reality", while insisting that he was not real, nor even human.
And he was right. The whole thing was the creation of a Dutch company using artificial intelligence (AI), and a very good voice actor, to demonstrate the disturbing power of "deep fake" technology.
How AI and deep fakes might be used for disinformation and misinformation, is just one of the many subjects embraced by the new University of Waterloo's Trust in Science and Technology Research Network.
Dr. Ashley Rose Mehlenbacher, Canada Research Chair in Science, Health and Technology Communication, co-directs the network, along with Dr. Donna Strickland, recipient of the 2018 Nobel Prize in Physics.
"The impact of AI-generated misinformation today and what it might look like even in a year is hotly debated," Mehlenbacher told Research Money. "From deep fakes to generated text, there is a lot to examine, including how to avoid its possible use in peer-review or public communication of science."
The Trust in Science and Technology Research Network is the first multidisciplinary research network of its kind in Canada, investigating how to improve communication with the public, and build trust in science and technology.
Founding members of the network include Dr. Mary Wells, dean of the Faculty of Engineering, Dr. Jonathan Fugelsang, professor of Psychology, Dr. Carla Fehr, professor of Philosophy and the Wolfe Chair in Scientific and Technological Literacy, and Dr. Christine Dow, professor of Geography and Environmental Management and Canada Research Chair in Glacier Hydrology and Ice Dynamics.
Seed funding for the network was provided through the University of Waterloo's Interdisciplinary Networks, Programs and Initiatives Fund.
According to Dr. Strickland, co-director of the network and professor in the Department of Physics and Astronomy, "Stronger scientific literacy and understanding can help to address some of the misinformation, but this issue is bigger than just a knowledge gap, and requires a multidisciplinary solution. Our research network is a collaboration across science, engineering, philosophy, psychology, and rhetoric and communication studies to get to the root causes."
In the long term, the research network plans to expand its partnerships further, to include all Waterloo faculties, as well as external partners, such as provincial and national organizations.
"The possibilities for innovative research are ripe," said Mehlenbacher. "For example, a rhetorical scholar might work with engineers to develop ways to detect AI-generated misinformation. Or you might have a scholar of interpersonal communication work with researchers in health sciences to better understand trust, medicine and complex family dynamics.
"While learning more about trust in science is a scholarly question, it also has significant practical implications" she added. "For example, trust in science influences how we decide where to go with a medical concern, or if we want to use some new technology, or even what kind of advice we take about a healthier lifestyle."
Mehlenbacher recognizes the network's challenges, acknowledging the long history of lack of trust in science, which has deep roots and complex contributing factors.
As far back as 1850, colleagues of a European obstetrician refused to believe that washing hands could lower the rate of hospital acquired-infections. More recently, from 1999 to 2008, South African president Thabo Mbeki refused to accept the scientific consensus that HIV is the cause of AIDS, resulting in misguided public health policies and a massive loss of human life.
Today, one need look no further than the ongoing COVID-19 pandemic, to understand the deadly consequences of science denial. Meanwhile, some entities continue to challenge the realities of the climate crisis, undermining the swift and aggressive actions required to mitigate its existential threat.
Among its activities, the network will investigate why people do — or do not — trust in science and technology. One area of special interest to Mehlenbacher and her team, is how misinformation generates emotional responses, and how these responses work to change or reinforce ideas. Her current research program examines communication about climate change and action, and investigates how they are discussed in the public sphere.
As part of its program, the Network plans to offer an expert speaker series for the public, and a Citizen Science Project where Waterloo region community members can offer input and actively participate in the scientific research communication process.
"We need to think about trust in a relational way," said Mehlenbacher. "It's not about simply telling people more information, and it's not about telling them what to think about some issue or subject. Instead, how can we better communicate about complex issues in science and technology, to make sure that everyone has access to content that is good quality? It's also important that we engage authentically with members of the community through events and activities — to get to the core of what information the public needs and values."
R$