Keeping it civil — and civilian — in space
Elizabeth Howell
July 19, 2023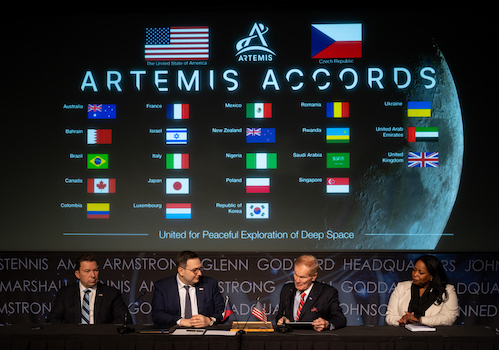 Canada's push for moon exploration appears to be mostly a civilian effort for now.
The Department of National Defence and the Canadian Armed Forces are "not currently conducting any lunar-specific projects, including development of lunar-specific capabilities," a spokesperson told Research Money by e-mail. This stands in contrast to the United States, which released a "cislunar" (lunar space) science and technology strategy in November 2022, which includes input from the U.S. Department of Defense.
The Canadian DND spokesperson referred requests around moon exploration to the Canadian Space Agency (CSA), which is heavily involved — to the extent that Canadian astronaut Jeremy Hansen will fly around the moon as soon as November 2024. DND also confirmed that its interest in space —mentioned numerous times in its recent policy — focuses on launching and tracking satellites for their protection, alongside supporting military operations with those satellites.
Hansen is a part of the Artemis program, a NASA-led initiative meant to land humans on the moon with Artemis 3 in 2025 or 2026. The gate-opening mission, Artemis 1, saw three mannequins fly around the moon on a test mission of a new spacecraft (Orion) that flew only once before, and a rocket (Space Launch System) on its debut mission.
Hansen will be on board Artemis 2, alongside three NASA astronauts, a benefit NASA provides as part of Canada's contribution to Artemis: the Canadarm3. The robotic arm, built by Brampton, Ont.-based MDA, aims to service a future lunar space station called Gateway. Artemis 2 will circle the moon, and Canada may be part of the Artemis 4 and Artemis 6 moon-landing missions that are scheduled for the late 2020s or early 2030s.
Canada has decades of investment in its Canadarm technology to thank for the compensation NASA provides to enable this country's participation in these missions.
Canada is also investing big in related tech that will be beneficial for moon exploration. A mini-moon rover is expected to launch around 2026, a project helmed by Western University and Caledon, Ont.-based Canadensys. The CSA is running deep-space food and healthcare challenges, which should help astronauts as well as remote populations here on Earth. Additionally, the CSA has a Lunar Exploration Accelerator Program (LEAP) to bring Canadian payloads to the surface of the moon on future international missions.
Even Canada's most recent budget included extensive space support, including renewing the nearly five-year-old LEAP program and adding funding for a lunar utility vehicle to serve as a robotic helpmate for astronauts on the lunar surface.
Given Canada's track record of small space bets that are expected to pay off big, these investments reflect confidence that the next generation of moon exploration is here. A key moment for that commitment came in 2020, when the country was among the first signatories to the Artemis Accords, a NASA-led framework not only for moon exploration, but to establish peaceful norms for working in space.
With some 30 nations now part of those accords — and most of them expecting to send people, payloads, and packages to the lunar surface — US defense officials are watching closely to see what protection these assets may need. Science fiction is replete with scenarios about nations treading on each other's territory in extraterrestrial worlds, most recently and prominently in the Apple TV series "For All Mankind", presenting an alternate (and militaristic) history of moon exploration, based on what actually happened during the Apollo program of the 1960s and 1970s.
The new US cislunar strategy specifically outlines its intention to "support the responsible, peaceful, and sustainable exploration and use of cislunar space, including the moon, by all." In that context, defence takes a back seat, supporting the many civilian activities that are planned.
That said, there is language suggesting the US plans to continue its traditional focus on global enforcement of its values, while following several United Nations treaties addressing space exploration, and lunar activity specifically. The document cites five agreements, having to do with treatment of astronauts, telecommunications standards, liability for equipment in case of disaster, and the UN's foundational 1967 Outer Space Treaty, which underlies most space law.
Immediate defense needs, the strategy says, include establishing good "situational awareness" of the moon and regions around it, using satellite and ground sensors near Earth and, in the future, potential sensors around and on the moon. The US also wants to create a catalog of objects circling the moon (like it already does for Earth) and to "increase cooperation and data exchanges with other users of cislunar space", presumably to foster and maintain good relationships with other nations.
As an ally of the United States, Canada may not be directly planning on undertaking lunar work in the defence realm for now, but that could change if NATO or NORAD deems such work a priority at some point. In the meantime, however, civilian space is flourishing around the moon — along with ripe opportunities for Canadian companies, no matter what happens next.
R$