Doing well while doing good: exporting Canadian LNG to lower emissions abroad
Monte Stewart
July 19, 2023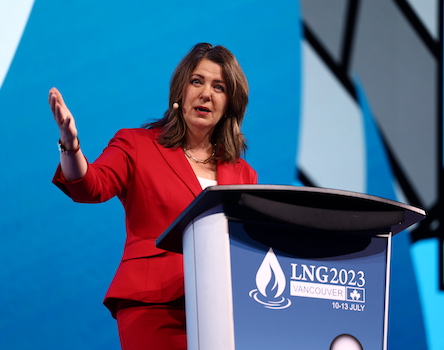 Alberta Premier Danielle Smith is teaming up with B.C. counterpart David Eby to examine ways to boost Canada's LNG exports and lower global emissions.
Smith told delegates at the global triannual LNG2023 conference in Vancouver on July 13 that her United Conservative government has begun bilateral talks with Eby's New Democratic Party regime, to help the two provinces receive carbon credits for reducing emissions in other countries.
"We both think one of the keys to making sure that we can have successful export projects is by using Article 6 of the [United Nations] Paris Accord," said Smith.

Following her speech, Smith said she views the leveraging of Article 6 as an integral part of a global emissions-reduction strategy for emissions reduction.
The controversial clause, negotiated by former Canadian environment and climate change minister Catherine McKenna, allows a country to use export to receive emission-reduction credits for lowering emissions outside its borders. In this context, those credits would flow from the export of Canadian LNG, which could displace millions of tonnes of emissions from coal-fired electricity plants in Asia.
"Alberta has an obligation, as the owner of the resource in our province, to take a lead, making sure we build that consensus," said Smith. "So, we're going to see if we can pioneer [an] approach between Alberta and British Columbia to allow for that, so that we can be a major player in reducing global emissions."
She said the two provinces have agreed to create a formal working group to look at supply-chain constraints, permitting, regulatory overlap and duplication.
Much of Canada's LNG is expected to come from natural gas produced in northeastern B.C. and Alberta and shipped via pipeline to the West Coast, where it will undergo a liquefaction process, starting with the LNG Canada project near Kitimat, B.C., slated to come on-stream in 2025.
According to Smith, it is crucial for B.C., Alberta, and Indigenous communities to work together and realize the global opportunities available.
"Being a global supplier means there is a global expectation that we will be taking all possible steps to reduce emissions to reduce carbon neutrality by 2050," she said.
Looking beyond B.C.
In response to a question from Research Money, Smith said Alberta is also working with other provinces than B.C. to maximize her province's LNG potential. She recently discussed the issue at separate meetings involving Western Canadian, and all of Canada's, premiers.
"We need to identify multiple ports that we would be able to expand and develop," she said.
Smith asserted that there are more opportunities for LNG development at the Port of Prince Rupert in B.C.; and on waterways in Yukon, with the LNG shipped through Skagway, Alaska; the Northwest Territories and Nunavut; Churchill, Man., (with gas coming through Saskatchewan and Manitoba) in Ontario, on James Bay; and on the East Coast.
"With the right infrastructure in place, Western Canada would become a sought-after supplier for both Asia and Europe," Smith insisted. "Shipping LNG from Canada's West Coast to Asia takes 11 days, compared to 20 days from the U.S. Gulf Coast. With the completion of proposed projects in Atlantic Canada, shipping Western Canada's gas to Europe would take seven to eight days, and that would be less than any other North American LNG project."
Meanwhile, the Alberta premier said her government also sees an opportunity to align with B.C.'s substitutive process for major project approvals. Under that process, Ottawa allows the B.C. government to assess a major project, then both governments base their decisions to approve or reject it on the province's single assessment report.
"We're going to pursue our own expedited process with the federal government to fast-track projects, so we can put more shovels in the ground and do it sooner," said Smith. "And, it is my goal to work with the federal government to find common ground as well."
Using LNG to expand solar and wind
In early July, during a meeting between Smith and Trudeau in Calgary, the Alberta and federal governments established a bilateral working group to deal with energy and climate matters, incentivizing carbon-capture (CCS) use in projects.
Smith said during her speech in Vancouver that she and Trudeau also discussed LNG, ammonia, and hydrogen, along with the need for Alberta, B.C., and the feds to look at how the three governments can "clear the way" for investment, job creation, and emissions reduction, while helping to meet global demand.
"It is my sincere hope that this newly formed federal and provincial working group will be able to facilitate an agreement that will align Ottawa's efforts and Alberta's emissions reduction and energy development plan," she said.
Around the time of Trudeau and Smith's meeting in Calgary, the prime minister spoke with Reuters, urging the Alberta government to bolster CCS tax credits. Trudeau's comments came after Reuters reported in October that the two governments are at odds over which one should cover the costs of increased CCS tax credits.
During her speech in Vancouver, Smith touted Alberta's CCS potential, adding that the technology can reduce emissions from upstream projects and ultimately produce "cleaner and greener gas for the market." Smith said Alberta now has 25 proponents exploring the opportunity to develop large CCS hubs.
In response to another question from Research Money, Smith said the province will talk to the industry about whether CCS components should be required for new LNG and natural gas-related production and pipeline projects.
"The difficulty that we're having with the federal government is that they've set an aggressive — and, in our opinion too aggressive — target for the net-zero power grid to be carbon neutral, to be net-zero by 2035, and [Ottawa contends that] 2050 is an achievable target. So, I want to talk to the industry about that.
"But the complication with making sure that every new natural gas generation project is carbon-neutral is that we have peaker plants [stations reserved for peak power demand] that are used to come on stream when solar and wind are intermittent," added Smith. "Part of the reason we've been able to expand solar and wind in our province is that, when the sun isn't shining and the wind isn't blowing, we can rapidly upscale natural gas. It's not cost-effective, I'm told, to have net-zero emissions in your plants."
She also noted how this flexible use of natural gas can contribute to the growth of solar and wind generating capacity. "The alternative, of course, is that large-scale projects for natural gas will be fully abated and then limit the opportunity for solar and wind to come on, because we need to have a reliable grid and an affordable grid at the heart of what we do. So, those are the conversations that I put to the to the federal government — and part of the reason why I think we need a bit more time to be able to reach the 2050 target."
During the LNG2023 conference, global energy industry leaders stressed that CCS projects will be key components of LNG production and exports well into the future.
Eby has acknowledged his participation in talks about LNG development outside B.C. with other premiers. But he recently expressed doubts about B.C.'s ability to develop power plants quickly enough to reduce dependence on fossil fuels.
R$