Protect our pollinators, say York University researchers
Leah Geller
July 19, 2023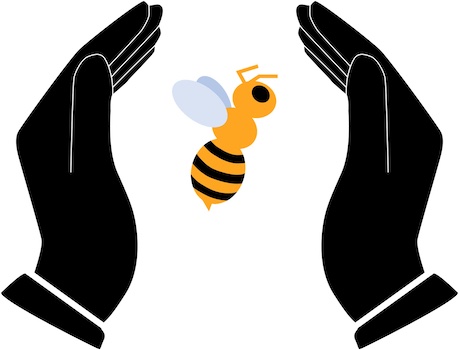 Canada's native Borealis bumble bee has a unique way of collecting pollen from a plant. It first vibrates its chest muscles to shake loose the pollen, and then carries the powdery substance on its body back to its nest, pollinating plants along the way.
Bombus borealis is just one of Canada's 850 native pollinators upon which some of our most important crops — such as canola and blueberries — depend. Native pollinators, including bees, butterflies and other insects, are essential to Canada's economy and food security. Yet many are headed for extinction, primarily because of habitat loss, pesticides, and disease.
This is why Associate Professor Sheila Colla of York University's Native Pollinator Research Lab in the Faculty of Environmental and Urban Change, and Postdoctoral Fellow Rachel Nalepa, are calling on the federal government to implement a national pollinator strategy.
"Swift action is needed to protect wild pollinators, which will also benefit the agricultural sector, the environment, and build climate change resiliency," Colla told Research Money. "Our wild bees and native plant species have co-evolved over thousands and thousands of years. We don't know what will happen to these plants when or if bee species or [other pollinators] go extinct."
Framework focuses on habitat, pesticides and disease
Colla and Nalepa recently published a framework for a national strategy, which they based on a study surveying pollinator experts. They hope these efforts will become the foundation of a Canada-wide pollinator policy.
The framework suggests better risk assessments for pesticides, and more research on how combinations of pesticides affect wild pollinators. It also recommends more financial support and guidance for farmers to reduce their pesticide use, as well as increasing their access to seeds that have not been treated with pesticides.
The framework also recommends creating connecting corridors for the insects' habitat, ensuring they can move easily between sites to forage, overwinter, and breed.
Colla is especially concerned about non-native European honeybees transmitting disease to Canada's native species. She highlighted the framework's description of a clean stock certification program for beekeepers to help stem the spread of disease from honeybees to wild bees.
Why Canada lags behind
The United States, Spain, Norway, the Netherlands, France, Mexico, Ireland, Colombia, Nigeria, and at least 24 other countries have already adopted their own national initiatives to protect pollinators. According to Colla, Canada has yet to do so, because of the challenges of jurisdictional complexity.
"We have the issue of federal versus provincial governments, as well as distinct departments within jurisdictions," she said. "For example, pollinator issues might fall under agriculture and wildlife conservation, or even forestry. It's challenging to get different governments and departments to work together on a single issue."
She cited another barrier to a national Canadian pollinator strategy — pressure from industry.
"When Ontario was developing its pollinator plan, it became clear how powerful the lobby groups were," explained Colla. "In particular, some grain farmer associations wanted unrestricted access to neonicotinoid pesticides. Despite this being one of the more publicly supported environmental issues in Ontario's history, the lobbyists were able to get [the plan] watered down, to the point where it probably hasn't changed much in terms of pesticide use in Ontario six years later."
Beekeepers, she adds, have made their own policy inroads.
"The beekeeping industry has also been a loud voice. That has meant what pollinator-friendly initiatives we have tend to be things that help the industry more than declining wild pollinators."
Looking to other jurisdictions
The United States has incorporated pollinator protection into its Farm Bill, specifically as part of its Conservation Reserve Program, which provides financial incentives to build pollinator habitat. Meanwhile, the country's Pollinator Protection Strategic Plan, established in 2008, continues to advance knowledge of pesticides, mitigate their risks, and bring together government and non-governmental organizations to address pollinator issues.
Ireland's national pollinator plan also prioritizes making farmland, as well as public and private land, more pollinator-friendly. The plan encourages conservation of rare pollinators and the native Irish black bee, which has been severely hybridized in other parts of Northern Europe.
In Canada, the City of Edmonton now requires beekeepers to complete a certificate before qualifying for a beekeeping licence. Edmonton's Urban Beekeeping Guidelines include the use of animal control services to address any disease outbreak.
And most recently, the City of Halifax has decided to hire a permanent naturalization coordinator to support their goal to become a Bee City. They would ensure that initiatives such as the re-naturalization of municipal land continue to expand.
What individuals can do
Even without a national pollinator plan, there are things Canadians can do now, such as participating in community science programs like BumbleBeeWatch and minimizing garden clean-up, because pollinators often live under leaves, thatched grass and in hollow plant stems.
"Protecting a diverse and abundant community of wild pollinators is critical," concluded Colla. "It makes sure that we have a healthy ecosystem, it helps us with our food security and also builds Canada's climate resilience."
R$