The Short Report – August 23rd, 2023
Danielle Burns
August 23, 2023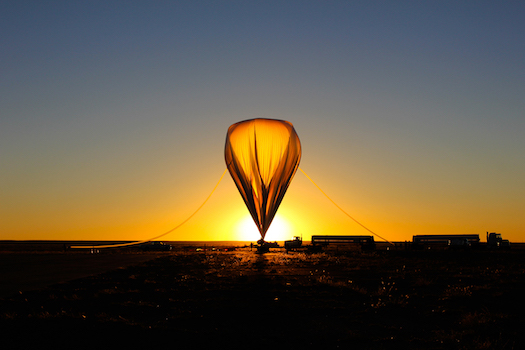 GOVERNMENT FUNDING ANNOUNCEMENTS AND OPPORTUNITIES
The Federal Economic Development Agency for Northern Ontario (FedNor) is investing $1,614,503 to help the City of Timmins expand a facility to launch research balloons into the stratosphere. Over the past decade, more than 25 large balloons have lifted off from the site, conducting work on atmospheric chemistry, imaging, astronomy, and solar studies. The expansion will increase the amount of this activity, as well as attract international research organizations to use the site.
The Université de Sherbrooke's Centre de technologies avancées BRP (CTA) will receive a non-repayablecontribution of $852,641 from Canada Economic Development for Quebec Regions (CED) to support thegreen transition of Quebec's economy. The funding will enhance the CTA's technology transfer capacity andboost the performance of businesses in the transportation electrification sector. The CTA, established in 2006,specializes in innovative vehicle solutions for specialized markets, including electric aircraft, rescue vehicles,and rovers for the Canadian Space Agency. The contribution will enable the acquisition of specializedresearch and development equipment in the clean vehicle technology field. The government's support aims todrive sustainable economic recovery by facilitating SMEs' adoption of clean technologies and greener products,thereby positioning them for success in a transitioning economy.
The Canadian Space Agency (CSA) has awarded $1.03 million through six grants for collaborative projects at universities across the country. Each project aligns with priorities identified in the Space Strategy for Canada, or quantum technology. They include:
$167,932 to University of Victoria, to study the environmental resilience of kelp forests

$300,000 to Université Laval, for advanced silviculture research

$198,000 to McGill University, for work on space robotics systems

$177,061 to Carleton University, to investigate food systems for use in space

$85,800 to University of Waterloo, to design an autonomous glider platform

$100,000 to York University, for research on a microfluidic sensor
CSA also awarded more than $1.7 million to space sector partners, for fundamental research as well as testing new technologies. These grants include:
$240,000 to AllSeeing Corp., to investigate a quantum-enhanced sensor

$497,385 to MDA, for two projects, one on sample analysis of cell and tissue biology and the other on lunar dust behaviour

$250,000 to University of Alberta, on a system to analyse space radiation

$250,000 to Pelican MRI, to design a portable MRI scanner to monitor astronaut health

$249,879 to the Ottawa Hospital Research Institute, for research on blood chemistry in space

$249,170 to Lunar Medical, supporting concept study of a digital health platform
The BC government's Knowledge Development Fund (BCKDF) is providing $6.5 million to 27 projects at public post-secondary institutions across the province. The funded work includes studies of marine climate change, the use of stem cells for brain disorders, reduction of greenhouse gas emissions from food waste, and the development of anti-microbial therapies to combat antibiotic resistance.
Environment and Climate Change Canada has committed $5.2 million to BioTalent Canada's Science Horizons program, which subsidizes the salaries of employees in the environmental and clean technology sectors. Since 2019, Science Horizons has helped place some 299 students with more than 80 employers across the country.
Alberta Innovates is putting more than $13.6 million into 19 partners across the province, through its Ecosystem Development Partnerships Program, which supports small- and medium-sized technology companies. One of the largest grants ($1.85 million) goes to Smart Technology Innovations, led by Vivian Mushahwar, for health technology development. Another $1.75 million is going to the Alberta CREATE Centre at the University of Alberta, for intelligent technology design. The Southern Alberta Institute of Technology receives $1.493 million for its Alternative Construction Technologies Hub, and University of Lethbridge receives $1 million for its Neuroengineering Research Solutions Hub. Alberta Innovates employs some 600 scientists and business and techical professionals, managing nearly 1,300 projects in a portfolio valued at $1.33 billion.
RESEARCH AND DEVELOPMENT NEWS
The Canadian government, along with provincial authorities, has announced funding of $644 million for the construction of a new battery materials production plant in Bécancour, Quebec. The project is a collaboration between the Ford Motor Company, South Korea's EcoProBM, and SK On, with a total valuation exceeding $1.2 billion. The facility, named EcoPro CAM Canada, will manufacture approximately 45,000 tonnes of cathode active materials annually for batteries in Ford's upcoming electric vehicles. The funding comprises a conditional contribution of $322 million from the Government of Canada through the Strategic Innovation Fund and a partially forgivable loan of $322 million from the Government of Quebec through Investissement Québec. This initiative aims to bolster Quebec's position in the electric vehicle supply chain, create more than 345 jobs, and strengthen the province's role in the emerging global green economy. The plant is expected to commence operations in the first half of 2026.
Innovation, Science and Economic Development Canada
Sudbury-based MIRARCO Mining Innovation has secured a $280,000 grant from the Mining Innovation Commercialization Accelerator (MICA) Network. The funding is designated for the development of a pilot plantin Sudbury, employing biotechnology to extract valuable metals from mine waste piles while simultaneously aiding environmental cleanup. Partnered with BacTech Environment Corp., MIRARCO aims to test their proprietary bioleaching process in the Sudbury basin, which contains substantial amounts of untapped pyrrhotite concentrate, mostly owned by mining giants Vale and Glencore. Traditional methods of extractionfailed to recover metals like nickel and cobalt from these waste piles. A pilot plant utilizing native bacteria for bioleaching is in progress, with the aim to complement modern mining practices and unlock valuable resources from waste. The MICA program supports mining technology commercialization to enhance productivity and sustainability in the mining sector.
Andy Fisher, the director of Bounce Health Innovation in St. John's, anticipates a significant technological transformation in healthcare for Newfoundland and Labrador. Bounce Health Innovation, founded with supportfrom the non-profit TechNL, aims to enhance healthcare by delivering innovative technological solutions. Fisher advocates for technology, including machine learning and artificial intelligence, as having the potential to reshape healthcare practices. Bounce Health Innovation facilitates health-related startups, connecting industry challenges with technological solutions. Fisher's guidance has supported more than 60 startups in the healthcare ecosystem, including Avalon Holographics, which aims to revolutionize medical visualization using holographic display technology. This technology could empower physicians with more accurate insights and potentially revolutionize surgical planning.
Scientists who signed contracts to participate in a 2020 webinar on computation modelling of covid-19 have been saddled with bills as high as €80,000 (CDN$118,000). An investigative report by the journal Science revealed the participants have spent several years mounting various legal battles against the claims, which come from an organization called Villa Europa and have been imposed by an opaque body called the Court of Arbitration of the Polish Chamber of Commerce.
The Australian Antarctic Division (AAD) is facing criticism and concerns from scientists worldwide after reports emerged that its budget will be cut by AUS$25 million (CDN$22 million). This budget reduction is leading to the cancellation, postponement, or scaling back of several research projects in the coming summer, with potential impacts on climate change research in Antarctica. Among the affected projects are studies onchanging sea ice patterns in a warming climate. The budget cut comes at a time when Antarctica's sea ice hashit a surprising and significant new low. Scientists fear that this funding reduction could disrupt research efforts and hinder understanding of climate change impacts on the region.
Microsoft has removed an article from its website that advised tourists to visit the Ottawa Food Bank on anempty stomach, after facing ridicule and criticism about the company's reliance on artificial intelligence (AI) fornews content. The article, titled "Headed to Ottawa? Here's what you shouldn't miss!", contained numerous errors and bizarre recommendations, such as recommending that tourists "enjoy the pristine grass of 'Parliament Hills'". A spokesperson for Microsoft later attributed the publication of the article to "human error" rather than "unsupervised AI." The article's removal highlights the challenges of relying solely on AI for content creation, especially in domains that require nuanced understanding and human context. Critics point out that such incidents underscore the limitations of AI-generated content in delivering accurate and high-quality information.
GRAPEVINE
Alison Evans is becoming President and CEO of Research Canada, a national alliance dedicated to increasing investments in health research through collaborative advocacy and engaging government, academia, industry and non-profit sectors to build support for long-term health research funding. She brings more than 25 years of experience in strategic communications, marketing, and fundraising with public and private organizations. She replaces outgoing President and CEO Deborah Gordon-El-Bihbety, who served Research Canada and its predecessor organization, the Council for Health Research in Canada, for the past 20 years.
Montreal researchers, led by Dr. Massimo Pandolfo of the Montreal Neurological Institute, are participatingin an international study to gain insights into Friedreich's ataxia, a little-understood genetic disease prevalent inQuebec and Acadian regions of the Maritimes. Friedreich's ataxia causes progressive mobility limitations andcardiac issues, usually starting in childhood or adolescence and leading to significant disability within a fewdecades. The observational study involves MRI scans, blood tests, and physical examinations and aims tobetter understand the disease's impact on the central nervous system and guide potential therapies. Despite its rarity (affecting about 15,000 worldwide), those living with the disease often find that many people are unaware of it. Participants in the study express their eagerness to contribute to research and connect with others whounderstand their condition, with the hope of advancing knowledge and possibly finding new treatments.
R$