As Canada aims to launch rockets, recent SpaceX Starship explosion shows crucial role of regulation
Elizabeth Howell
August 23, 2023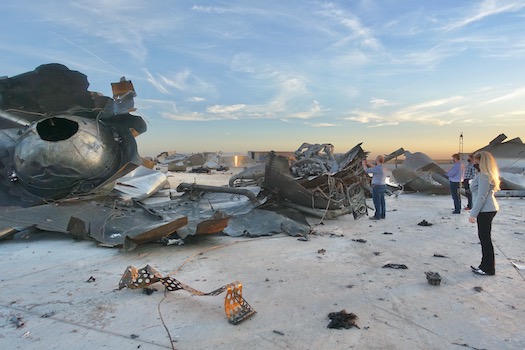 Cleaning up after a SpaceX crash
SpaceX is late on its self-imposed eight-week deadline for relaunching Starship, which arrived in mid-August. While it is making moves towards launch, the physical and political impact from the spaceship's explosion show the crucial role of regulation after such incidents.
SpaceX's Starship launched from coastal Texas on April 20, when operators were forced to detonate the massive spacecraft minutes into the flight, high over the Atlantic. The powerful rocket not only carved out concrete chunks from the launch pad that rained large pieces of debris, but the explosion also sent out bits of rocket and dust for kilometres around the launch site, including nearby towns.
About eight weeks later, on June 14, CEO Elon Musk pledged on Twitter that SpaceX would relaunch Starship in "six to eight weeks", a deadline that expired on August 9. Starship remains grounded, as the US Federal Aviation Administration (FAA) examines the incident under a regulatory framework, taking into account not just airworthiness, but also input from environmental authorities and local Texas groups, including Indigenous communities.
The FAA is conducting an investigation with the National Transportation Safety Board (NTSB) under a Memorandum of Agreement signed in 2022, coordinating their responsibilities, notification procedures, and reporting protocols. SpaceX submitted its final mishap report to the FAA this month and we are awaiting news of next moves, but typical regulatory investigations like this can take months at the least.
Canada, meanwhile, is moving towards environmental regulations to avoid these situations from happening in the first place. Alongside community consultations, Nova Scotia's Maritime Launch Services (MLS) has pledged to conduct Canada's first in-space launch in a generation as soon as 2024 — following a successful student rocket launch to test its facilities earlier in July, which was attended by many in the space sector and in the nearby community of Canso.
The Canadian government had pledged earlier in 2023 to update and streamline the space-launching regulations straddling numerous government domains. Consultations include different departments, Indigenous groups, and the space industry, according to the little we have heard so far on public websites.
In fact, the Canadian Space Agency and other officials have suggested the development of space regulations would include Transport Canada, Innovation, Science and Economic Development Canada, the Remote Sensing Space Systems Act (in the cases of satellites), the Export and Import Permits Act, Indigenous and Northern Affairs Canada, the Department of National Defence, and environmental and fisheries groups — just to name some examples.
This regulatory revision may take years, but the Canadian government has also pledged to review any launches on a "case-by-case basis", allowing commercial operators such as MLS to send payloads aloft. Recent news from the United States indicates that regulation remains a necessity, even in a world when rockets launch just about every week from somewhere.
We cannot ignore regulations when launching people into space, and we also must take the time to account for airworthiness and environmental protection. Two recent US incidents show why.
A year ago, in September 2022, an uncrewed Blue Origin New Shepard rocket exploded during a flight. Blue Origin has said they are hoping to relaunch that rocket — which is also intended to carry crews at some point — later in 2023, but no flight date has been confirmed as of this writing, as the investigation (and remedies) continue.
Almost nine years ago, in October 2014, the Virgin Galactic spacecraft Enterprise crashed during a test flight inside the atmosphere, killing one pilot and severely injuring another one. Virgin cancelled all flights for nearly two years, due to the complexity of the investigation, the needed remedies, and because they needed to build a new spacecraft, which was named Unity. In its September 2016 test flight, Unity reached just 15 km, followed by further atmospheric flights, before spaceflight was achieved in December 2018.
These incidents of course do not take into account environmental concerns directly, but that has always been a problem with spaceflight. Corrosive fuels, large launch facilities typically on Indigenous territories, and proximity to sensitive areas like water or ecological zones, require careful consultation with multiple stakeholders ahead of any launch. Canada is still in the early stages of addressing these priorities, but NASA and CSA continue to pledge to do better, while the European Space Agency has introduced stricter regulations for fuels.
The earliest stages of space rocketry, fully two generations ago, included a series of explosions on both the American and Soviet sides, taking environmental and human tolls. One of the most infamous was the Nedelin catastrophe of Oct. 24, 1960 at the Baikonur Cosmodrome, in today's Kazakhstan, where crews still launch. An R-16 intercontinental ballistic missile exploded during preparation and killed at least 54 people, although the true extent of the damage remains unknown, as the government did not even acknowledge the event officially until 1989.
Subsequent space programs racked up quite a few deaths, in spaceflight and on the ground — Challenger, Columbia, Soyuz 11, Soyuz 1, and Apollo 1 are among the incidents that come up again and again in space history. A few shuttle workers died at the launch pad over the decades, while a fatal Bell helicopter crash occurred on March 27, 2003 during a search for debris from the broken-up Columbia space shuttle.
Canada is a different country, with a different set of stakeholders to consider, but there are similarities to the US. The bottom line: space will remain a dangerous arena, not only because of the remote environment, but the inherent risk of working with rockets, cryogenic fuels, and other technology, all capable of causing deaths, injuries, and environmental harm.
Canada can (and should) continue to aim for the excellent safety track record that aviation has achieved, but in the meantime, it will be crucial for Canada's new updates to the space-launching regulations to take into account how to proceed, in cases of serious harm to life, limb, and property.
R$