The Short Report - March 29, 2023: Ontario Budget 2023 highlights; a new national strategy for rare diseases, a boost for domestic semiconductor production, and more.
Cindy Graham
March 29, 2023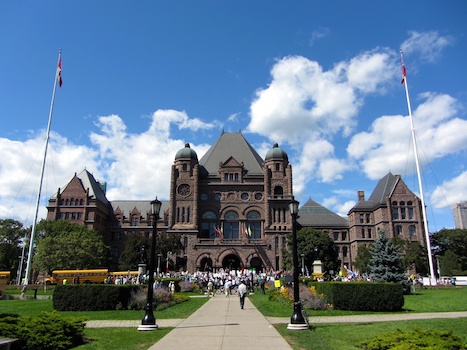 ONTARIO BUDGET
As part of this year's budget, the Government of Ontario is investing $32.4 million over the next three years to support about 6,500 research internships through Mitacs for undergraduate students, graduate students and postdoctoral fellows in disciplines including "key provincial priorities" such as critical minerals, manufacturing and health care. Other science, technology and innovation highlights from Ontario's 2023 Budget include:
Allocating 5.9 percent of the budget for 2023-24 to the postsecondary sector.
Helping more Ontario students become doctors by investing an additional $33 million over three years to add 100 undergraduate seats beginning in 2023, as well as 154 postgraduate medical training seats to prioritize Ontario residents trained at home and abroad beginning in 2024. Ontario residents will continue to be prioritized for undergraduate spots at medical schools in the province.
Advancing Ontario's Critical Minerals Strategy to support supply chain connections between industries, resources and workers in Northern Ontario and manufacturing in Southern Ontario, including Ontario-based electric vehicle (EV) and battery manufacturing. The Ontario government will invest an additional $3 million in 2023–24 and $3 million in 2024–25 in the Ontario Junior Exploration Program to help more companies search for mineral deposits and attract investments.
Attracting more than $16 billion in investments by global automakers and suppliers of EV batteries and battery materials.
Launching a voluntary clean energy credit registry for businesses to meet environmental and sustainability goals and demonstrate that electricity has been sourced from clean resources.
Launching the Ontario Made Manufacturing Investment Tax Credit, which would provide a 10 percent refundable corporate income tax credit to help local manufacturers lower their costs and innovate.
-Government of Ontario Press Release| Budget Highlights
FEDERAL BUDGET 2023
The Government of Canada has committed $109 million over three years on business-led R&D partnerships with colleges, institutes, polytechnics, and cégeps in Budget 2023. The investment is being made through the Tri-Council College and Community Innovation Program, which is led by the Natural Sciences and Engineering Research Council and partners post-secondary students with local businesses to advance research, innovation, commercialization and competition. Colleges & Institutes Canada
Colleges and Institutes Canada is particularly pleased to see the federal government recognize the critical role colleges and institutes play in supporting businesses' competitiveness and resiliency with a $108.6 million over three years investment in applied research through the existing Tri-Council College and Community Innovation Program. CICan has been calling on the federal government to accelerate business-led R&D by doubling the impact of this program which enables Canadian colleges and institutes to partner with local businesses to advance research, innovation and commercialization and provide thousands of students with hands-on, career-relevant learning experiences.
HEALTH FUNDING & HEALTH RESEARCH
The Government of Canada is investing up to $1.5 billion over three years in support of a national strategy that would increase the access to and affordability of promising and effective drugs for Canadians with rare diseases, including children, as well as increasing support to early diagnosis and screening. The strategy would be the first step in looking at drugs for rare diseases coverage from a national perspective, with funding being made available to provinces and territories through bilateral agreements. The funding breakdown includes $33 million over three years to Indigenous Services Canada's Non-Insured Health Benefits Program to support eligible First Nations and Inuit patients with rare diseases, and an investment of $68 million for initiatives supporting collaborative governance, data infrastructure, and research for drugs for rare diseases to improve consistency of access across the country. Health Canada| Backgrounder| ALS Canada
The Canadian Institutes of Health Research have launched the 2023 Institute Advisory Boards (IAB) membership cycle. IABs act in an advisory capacity to the scientific directors of the Institutes, including deliberations on Institute health research priorities and strategies and implementation plans for engaging the broader research community. Applications submitted between March 7, 2023 and April 25, 2023 will be considered for the 2023 cycle while applications received after the deadline will be considered for the next membership cycle, to be launched in early 2024. CIHR
The CIHR Institute of Aging has launched a strategic plan for 2023-2028 focused on reframing aging, refocusing on lived experience and repositioning health care to empower older adults. The plans' strategic directions include placing healthy aging, risk reduction, and mitigation at the forefront, while reducing the impact of complex health challenges. CIHR-IA
The ALS Society of Canada (ALS Canada) and Brain Canada are investing $1,475,000 to support nine discovery grants for amyotrophic lateral sclerosis (ALS) research with support from the Dr. Jean-Pierre Canuel Fund – SLA Québec. The 2022 Discovery Grant program introduced two funding opportunities of $300,000, an increase from additional projects funded at $125,000, as part of efforts to support more ambitious projects. Among the awardees are Dr. Richard Robitaille at the Université de Montréal (receives $300,000 to examine the role of neuromuscular junction proteins in the development of essential biomarkers in collaboration with Dr. Danielle Arbour and Dr. Roberta Piovesana at the Université de Montréal and Dr. Robert Bowser at the Barrow Neurological Institute) and Dr. Renée Douville at the University of Winnipeg (receives $125,000 to examine if a new mouse model could clarify the potential role of retroviruses in ALS and lead to new treatments in collaboration with Dr. Jody Haigh at the University of Manitoba, and Dr. Domenico Di Curzio at St. Boniface Hospital Albrechtsen Research Centre.) ALS Canada
RESEARCH AND DEVELOPMENT
Innovation, Science and Economic Development Canada is contributing $36 million through the Strategic Innovation Fund to Ottawa-based Ranovus to support a $100-million project to advance the domestic production of semiconductor products used in phones, computers, cars and appliances, and for silicon photonics expertise. The project aims to develop high performing, power-efficient technologies for interconnecting computer chips for next-generation artificial intelligence work and is part of the Government of Canada's intellectual property (IP) initiative and is expected to produce 40 new patents. ISED | Canadian Manufacturing
ISED also announced $8.5 million through Sustainable Development Technology Canada to support Waterloo-based semiconductor company VueReal. The Government of Ontario is also supporting the company with $2 million in funding through Invest Ontario. The joint investment will support a $40 million investment VueReal is making to boost its ability to develop prototypes for automotive, aerospace, and smart glass applications, including high-brightness microLED displays. ISED | Newswire
Environment and Climate Change Canada is investing $25 million over the next five years to support new and ongoing freshwater science research by the the International Institute for Sustainable Development's Experimental Lakes Area in northern Ontario. The funding, which was proposed in Budget 2022, will also support projects that improve research capacity and knowledge exchange in Canada and abroad, including research on stressors to aquatic ecosystems such as excess nutrients, acidification, contaminants of concern, and climate change. ECCC
McGill University, Saint Mary's University, Université de Sherbrooke, the University of Northern British Columbia, the University of Waterloo, the University of Winnipeg, and Western University are the newest members of Vancouver-based TRIUMF, Canada's particle accelerator centre network, bringing the number of member institutions to 21. TRIUMF underwent changes to its organizational structure in 2021 to "improve efficiency and clarify accountability across the laboratory's various stakeholders." The new members joined TRIUMF as former associate members under the laboratory's prior Joint Venture structure. TRIUMF
The University of New Brunswick will be upgrading key scientific equipment at its Centre for Nuclear Energy Research (CNER) and improving its research capabilities, thanks to over $2 million in combined funding from the Atlantic Canada Opportunities Agency ($1.9 million) and the New Brunswick Innovation Foundation ($173,595). The funding will support upgrades and augmentation of CNER's high-temperature water test systems that simulate the infrastructure used in nuclear power generation, such as existing CANDU reactors. The funding will also provide for the renovations and equipment needed to establish the CNER's advanced nuclear research Laboratory, enhancing its ability to provide insight and research for emerging small modular reactor technology. UNB
McMaster University's Manufacturing Research Institute is the host of the first 5G Millimeter wave (5GMMwave) private network dedicated to Industry 4.0 research, thanks to a partnership with Toronto-based TERAGO. Researchers will use the private network over the next three years to test and develop advanced manufacturing technologies that leverage the capabilities of 5G MMwave networks, which offer high-bandwidth and ultra-low latency, while supporting thousands of devices. Newswire
Lethbridge College has officially opened its Spatial Technologies Applied Research and Training (START) Centre. The centre will support partnerships with organizations looking to apply virtual reality and/or augmented reality and 3D technology to solve challenges in key sectors, including agriculture, energy, architecture, health care, cultural heritage, and emergency response. Lethbridge College
FUNDING OPPORTUNITIES
Transport Canada is inviting First Nations, Inuit, and Métis communities and organizations to apply for funding through the Indigenous Local Communities Engagement and Partnership Program, to hire Indigenous Marine Coordinators for up to four years to help develop solutions to improve marine safety, protect local marine environments, and improve marine transportation systems. The $16-million in funding is part of $50 million in Oceans Protection Plan funding for Indigenous communities and organizations announced in September 2022. The application deadline is May 19th. Transport Canada
AGREEMENTS & REPORTS
Competition Bureau Canada and Laval, Quebec-based Isologic Innovative Radiopharmaceuticals have entered into a consent agreement to address the Bureau's concerns with Isologic's contracting practices. A Bureau investigation found that Isologic's contractual practices with certain customers contravened the abuse of dominance provisions of the Competition Act, affecting certain customers purchasing radiopharmaceuticals used for single photon emission computed tomography scans. Affected customers were required to purchase some products exclusively from Isologic. Competition Bureau
Agriculture and Agri-Food Canada (AAFC) has published the Fertilizer Emissions Reduction Target Consultation What We Heard Report, which will inform AAFC's work to meet Canada's fertilizer emissions reduction target of 30 percent from 2020 levels by 2030. A fertilizer working group is being formed under the Sustainable Agriculture Strategy Advisory Committee to work with AAFC to achieve the following objectives:
strengthen the ongoing dialogue between industry and government to share information, best practices and identify resources to reduce emissions from fertilizers;
examine mechanisms that need further support, such as program funding and the adoption of beneficial management practices (BMP);
improve the measurement and tracking of fertilizer emissions reductions in the sector.
-AAFC
One of the takeaways from the Canadian Space Agency's recently released 2021-22 departmental results report is that CSA did not spend the full amount of its budget allocation on programs but spent more than planned on internal services due to procurement difficulties. CSA
THE GRAPEVINE
Louise Blais, Marc-André Blanchard, Brad Ferguson, and Rory McAlpine have been appointed board directors of the Invest in Canada hub by Minister of International Trade, Export Promotion, Small Business and Economic Development Mary Ng. Blais is a senior advisor to the Pendleton Group, an economic development consulting group; Blanchard is executive vice-president and global head of sustainability at the Caisse de dépôt et placement du Québec; Ferguson is senior vice president at Optimus SBR, and McAlpine was senior vice president of government and industry relations at Maple Leaf Foods. Global Affairs Canada
Dr. Markus von Wartburg has been appointed chief economist of the Competition Bureau for a one-year term starting April 3. He is vice president of Analysis Group in Montreal and will advise on economic matters relating to the Bureau's investigations, litigation, advocacy work, and competition policy matters. Competition Bureau