The Short Report - August 9, 2023: sustainable agriculture, IP protection, CIHR funding, AI for automobiles, and more.
Tim Lougheed
August 9, 2023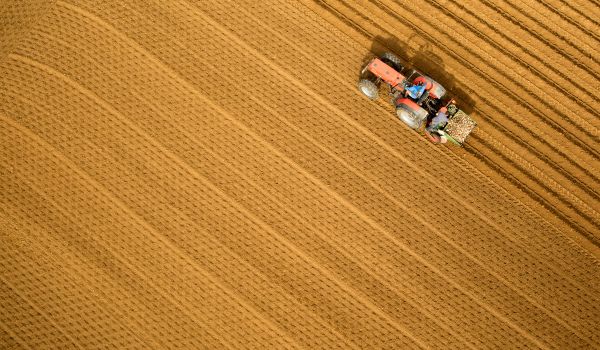 GOVERNMENT FUNDING ANNOUNCEMENTS AND OPPORTUNITIES
The governments of Canada and Ontario are investing up to $7.5 million through the Sustainable Canadian Agricultural Partnership (Sustainable CAP) to help eligible agri-food businesses and contributors enhance their biosecurity measures to support animal and plant health, and food safety. Sustainable CAP is a 5-year (2023-2028), $3.5-billion investment by federal-provincial and territorial governments to strengthen competitiveness, innovation, and resiliency of the agriculture, agri-food, and agri-based products sector. This includes $1 billion in federal programs and activities and a $2.5 billion commitment that is cost-shared 60 percent federally and 40 percent provincially/territorially for programs designed and delivered by the provinces and territories. Agriculture and Agri-Food Canada
The federal agency Prairies Economic Development Canada (PrairiesCan) is providing $3.1 million for the City of Calgary's Technology Integration Centre (TIC), and another $3 million for Calgary Economic Development. The TIC is intended to serve as a secure space for experimentation with innovative systems that could offer new services or solutions to urban problems. Support to Calgary Economic Development is to establish a new program for marketing local technology firms, as well as promoting the city internationally. PrairiesCan
The BC government has committed $2.5 million to help SMEs deal with the legal and financial challenges of safeguarding their intellectual property (IP). Part of the province's Stronger BC Economic Plan, the Intellectual Property Strategy will include training opportunities and other resources to obtain IP expertise, including access to New Venture BC's AccelerateIP program.
No sooner had BC launched its IP support measures for regional enterprises, then the East Coast postsecondary institution network Springboard Atlantic announced its own effort to help that region's SMEs protect their IP. Start-ups working with business accelerators or incubators will be eligible to apply to the Atlantic IP Advantage program for $50,000 to develop their own IP strategy, plus another $25,000 to execute that strategy. The program will offer guidance from IP counsellors, as well as workshops and professional services with lawyers and other experts in the field. Springboard Atlantic
Opportunities New Brunswick, that province's economic development agency, is investing $2 million into cleantech and climate mitigation projects, in partnership with the privately run New Brunswick Innovation Foundation (NBIF). This amount represents the latest top-off for the Climate Impact Fund, which the two partners launched in 2021. The provincial government recently announced that during the current fiscal year, it will invest $47 million in 73 projects.
Researchers at Queen's University have received $15,456,824 from the Canadian Institutes for Health Research for 12 projects in a wide range of scientific and medical topics. Recipients include:
Stephen L. Archer and Patricia Lima, Translational Institute of Medicine, $979,200 — role of cellular DNA in heart valve failure
Kerstin de Wit, Emergency Medicine, $1,396,125 — improving emergency room testing for pulmonary embolisms
Kimberly Dunham-Snary, Biomedical and Molecular Sciences, $879,750 — role of cellular DNA in system heart disease
Nader Ghasemlou, Biomedical and Molecular Sciences, $956,250 — link between circadian rhythms, chronic pain, and the immune system
Annette Hay, Canadian Cancer Trials Group, $3,056,172 — comparison of blood cancer treatments
Annette Hay, Canadian Cancer Trials Group, $3,056,176 — testing a novel therapy for cancer affecting blood cells
Alyson Mahar, Queen's Cancer Research Institute, $256,274 — assessing gender diversity in cancer services
Parvin Mousavi, School of Computing, $692,326 — imaging technology to improve breast cancer surgery
Douglas P. Munoz, Centre for Neuroscience Studies, Biomedical and Molecular Sciences, $1,002,150 — use of eye-tracking to diagnose Parkinson's disease
Wendy R. Parulekar, Canadian Cancer Trials Group, Biomedical and Molecular Sciences, $1,602,675 — novel radiation treatment for head and neck cancer
Chandrakant Tayade and Madhuri Koti, Biomedical and Molecular Sciences, $914understand endometriosis
Stephen Vanner, Medicine, $665,500 —development of non-addictive painkiller

Researchers at the University of Saskatchewan also announced its latest round of Canadian Institutes for Health Research grants, which total more than $7 million for nine projects. They include:
Humphrey Fonge and Maruti Uppalapati, Medicine, $979,200 — diagnostics and therapeutics for pancreatic and ovarian cancer
Alexandra King, Medicine, $1,656,224 — creating digital archives for Indigenous health and wellness knowledge
Eric Price, Chemistry, $963,900 — diagnostic and therapeutic imaging for head and neck cancers
Sarah Oosman, School of Rehabilitation Science, $960,075 — helping Northern Saskatchewan Métis age well in place
Alyson Kelvin, Vaccine and Infectious Disease Organization, $906,526 — coronavirus vaccine development
Solina Richter, Nursing, $868,276 — improving sexual and reproductive health services in Ghana
Cory Neudorf, Community Health and Epidemiology, $650,251 — assessing health inequalities in urban Canada
Gary Groot, Community Health and Epidemiology, $100,000 — determining integrated care for hip and knee treatment
Joyce Wilson, Biochemistry, Microbiology, and Immunology, $100,000 — genetic analysis of covid variants
VC FUNDING NEWS
Halifax-based 3D BioFibR has raised $3.52 million in seed funding and contributions from government agencies, its second funding round after raising $700,000 in 2021. This latest round includes Invest Nova Scotia and Build Ventures, as well as Concrete Ventures and Globalive Capital, which participated in the initial round. More than $900,000 is also coming from the Atlantic Canada Opportunities Agency and the National Research Council's Industrial Research Assistance Program. 3D BioFibR has developed an automated process for producing commercial quantities of collagen fibre, the basis of cell and tissue culture scaffolding for medical applications. 3D BioFibR
Liberum Biotech, a Toronto-based spin-off firm created by the federal Nanomedicines Innovation Network (NMIN), has raised $1.8 million from TechU Ventures, SOSV, and Savantus Ventures. Liberum simplifies the discovery of antibodies and enzymes for medical use, with a machine-based learning platform it calls "protein synthesis as a service". Customers can bring their chemical instructions for making proteins to the company and receive usable quantities in as little as two weeks. NMIN
Calgary-based SensorUp has raised $12 million in a Series B fundraising round. The round was led by the UK firm Climate Investment, which specializes in opportunities to decarbonize heavy greenhouse-gas emitting industries. SensorUp, which was founded in 2012, has developed geospatial networks to rapidly detect methane leaks in oil and gas operations, allowing such problems to be solved more efficiently. Climate Investment
Toronto-based Tenstorrent has completed a $133 million strategic financing up-round, led by $40 million from Hyundai and $26.7 million from Kia, along with others including the Samsung Catalyst Fund, Fidelity Ventures, Eclipse Ventures, Epiq Capital, and Maverick Capital. Founded in 2016, Tenstorrent develops artificial intelligence (AI) chips for industrial partners, licensing its IP to customers who want to own and customize the chips they use. Automakers have become interested in integrating AI into their vehicles, as well as applying this technology to robotic factories. Tenstorrent
RESEARCH AND DEVELOPMENT NEWS
The Manitoba government has signed a memorandum of understanding with California-based Newlight Technologies to manufacture biomaterials with carbon dioxide extracted from the atmosphere. The company's Air Carbon system produces polyhydroxybutyrate (PHB), a naturally occurring substance generated by marine microbes, which can store carbon from greenhouse gases and be used as a carbon-negative substitute in products made from plastic or leather. Newlight's proposed Manitoba PHB facility could employ more than 1,000 people. Manitoba
University of Toronto's Temerty Centre for Artificial Intelligence Research and Education in Medicine (T-CAIREM) is formally partnering with venture firm FACIT to seek new areas for commercializing AI applications. The partnership is focused on creating biotechnology companies to address the needs of cancer patients. FACIT recently marked a milestone of $1.5 billion in follow-on investments in such firms, built on IP generated by Ontario-based medical research. The memorandum of understanding also builds on the resources of another T-CAIREM strategic partner, the Ontario Institute for Cancer Research. FACIT
Grand Prairie, AB-based Northwestern Polytechnic (NWP) is establishing a new Agriculture and Biosciences Applied Research Centre, part of an applied research initiative to expand how the institute serves the needs of regional businesses. Over the past decade, with the support of NSERC, NWP has engaged in extensive research and services for honeybee enterprises. Support for this work was recently reinforced by further NSERC funding of $1.75 million. NWP
U15 Canada, the consortium of research-intensive universities, is warning the federal government of an impending brain drain if there is no major increase to research funding in next year's budget. As part of its submission to the government in advance of that budget, the U15 points to the substantial increase in research investments made by peer nations around the world, which will be in a position to offer Canadian researchers more attractive opportunities if the support here continues to stagnate. U15
GRAPEVINE
The Canadian Space Mining Corporation (CSMC) has hired NASA astronaut Andrew Feustel as its Executive Vice President of Strategy. Feustel, who completed his doctorate in geophysics and seismology at Queen's University in Kingston, Ont., spent 226 days in space on three missions between 2009 and 2018, including extended research work on the International Space Station. He brings that experience and his technical knowledge to CSMC, which is dedicated to developing extraterrestrial resources and energy sources. Newswire
Memorial University of Newfoundland sociologist Barbara Neis has been named a senior research associate at the university's Harris Centre. Over several decades, her work has focused on the changes in the province's historic fishery and how major economic shifts have affected the working lives of Newfoundland residents. Much of this work has been conducted through the Harris Centre, a research body that examines regional policy and development in Newfoundland and Labrador. MUN
R$