Strengthen muscle-building supplement regulations, say U of T researchers
Leah Geller
August 2, 2023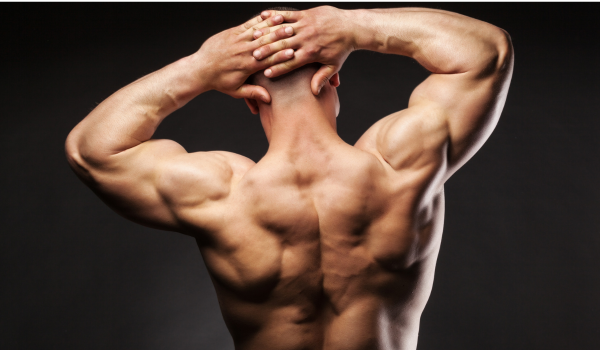 For the new Barbie movie, Canadian actor Ryan Gosling followed a strict workout and diet routine to achieve his perfect Ken, complete with a V-shaped torso, bulging biceps, and prominent pecs.
While the portrayal of the strong, muscular male body is now commonplace, it is in fact a relatively new phenomenon. As social theorist Jackson Katz remarks in his 2000 documentary Tough Guise, "Over the last 50 years, there have been some dramatic and really interesting changes in what is considered masculine, especially in terms of the size of men's bodies."
According to a 2006 study, even boys' action figures have become more muscular, with increasingly large measurements at the neck, chest, and arms over the last 25 years.
Muscular ideal fuelling supplement use
Kyle T. Ganson is assistant professor at the University of Toronto's Factor-Inwentash Faculty of Social Work. His research focuses on body image issues among boys and men, including muscle-building behaviours and performance-enhancing substance use.
"The muscular body ideal is extremely pervasive in North American society," Ganson told Research Money. "From the bodies of action heroes in Marvel movies to professional athletes and individuals on social media, the ideal male body of lean, muscular, strong, and functional is everywhere."
According to Ganson, this body ideal heavily influences boys and young men to work out and change their diet. This often includes the use of appearance- and performance-enhancing drugs and supplements (APEDS) to increase their muscularity.
Some of the most popular APEDS include whey protein, creatine, amino acids, and energy drinks. And their popularity among young Canadian males is striking.
A study by Ganson in 2022 showed that 83 percent consumed whey protein or protein shakes over the previous year, and 50 percent consumed creatine monohydrate, a performance enhancer for high-intensity exercise such as lifting weights.
Risk of contamination and mislabelling
Deeply concerned with the risks associated with APEDS, Ganson and his team recently released a policy brief calling on Health Canada to strengthen regulations for muscle-building supplements.
"These dietary supplements are very loosely regulated," Ganson explained. "There has been evidence that they are adulterated with banned stimulants and steroids, or even mislabelled. So, consumers may not actually know what they are ingesting.
"We also know that people who use muscle-building dietary supplements are more likely to abuse anabolic steroids, and experience eating disorder and muscle dysmorphia symptoms. There has also been research documenting major adverse health effects from use, including hospitalization, disability, and death."
In Canada, manufacturers are required to submit evidence of health claims and product composition, but there is no testing of these products to ensure the label accurately reflects what is in the jar. If there is a safety concern related to the interaction of listed ingredients or dosage, further safety assessment is conducted before going to market. Otherwise, safety is monitored using a complaints-based process, through adverse reaction reporting by consumers or their practitioners.
Canadian manufacturers do need to obtain a site licence by adhering to Good Manufacturing Practices, such as proper sanitary conditions. However, attestations to adherence can be made by the product applicant themselves; these claims do not need to be evaluated by a site inspection or a third-party authority.
Ganson said Canada is not alone in its weak regulation of muscle-building supplements, noting that the United States is even more lax.
"The dietary products industry is massive and has a lot of political sway," he added. "This makes it challenging to implement any strong regulations that may curtail use and profits.
"I also think there is a strong narrative that these products are safe, despite research pointing to adverse outcomes, as well as an over-reliance on industry to test the safety of the products. Plus, increasing regulations may mean increasing government costs, such as increasing pre- and post-market testing."
Recommendations include restricting access and improving awareness
In their policy brief, Ganson and his team have provided 10 recommendations to improve the regulation of muscle-building supplements in Canada. For example, they suggest prohibiting the sale of muscle-building supplements to those under 18 years old, taxing these products and moving them behind the counter.
Recommendations also include more pre-market testing, such as random testing and more stringent site licensing requirements, to prevent potential contamination. They also suggest providing better information to the consumer, including warning labels and an online safety and efficacy database, as well as funding to train health care professionals to screen muscle-building supplement use.
"It's important we consider these additional mechanisms to protect the health and well-being of the Canadian population," says Ganson. "Muscle-building supplement use may pose a significant risk to consumers, particularly young people, who may lack the capacity to consider the potential harmful effects of using these substances."
R$