Tugging at an electric future
Monte Stewart
August 2, 2023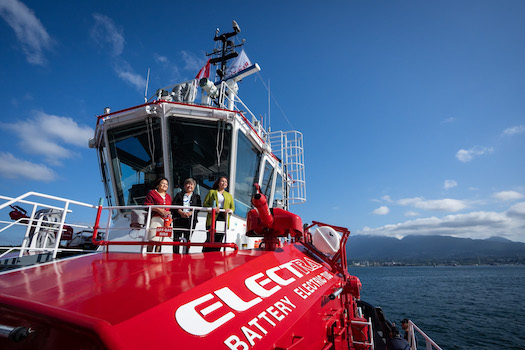 Pictured on the bridge of Wamis, from left to right Karen Ogen, Eva Clayton and Crystal Smith.
Canada's first operational fully electric tugboat is just one of many to come, says an executive with the company that built it.
The HaiSea Wamis is sailing in the Vancouver area temporarily. The vessel is one of three fully electric, battery-powered harbour tugs to be used at the $40-billion LNG Canada liquefaction plant near Kitimat, B.C., which is slated to begin operating in 2025.
"When we stand in the battery room for the HaiSea Wamis, we like to say that we are standing in the future," said Vincent Percy, operations director for North Vancouver-based HaiSea Marine via email. "There is little doubt that we will see more e-tugs enter service in the coming years, and we are proud to be a leader within the industry and to honour our commitments to our partners and the environment through one of the greenest tugboat fleets in the world."
In May, the HaiSea Wamis captured International Tug & Salvage magazine's 2023 tug of the year award, beating out a range of battery-electric, dual-fuel, and hybrid rivals.
Each HaiSea e-tug is 28 metres long, has what is known as a bollard pull of 70 tonnes, and can travel at a speed of up to 13.5 knots (nautical miles per hour). With about 30 fully electric tugs on order from around the world, it appears that demand for them is accelerating, Percy added.
"This is the beginning of an environmentally focused shift within the marine industry," he said.
Shell-led LNG Canada contracted HaiSea Marine, a joint-venture between the Haisla Nation and shipbuilding giant Seaspan, which is based in North Vancouver, to build the three e-tugs and two dual-fuel (diesel and LNG) escort tugboats under a $500-million deal. The Haisla Nation is the majority owner of the joint venture. The LNG Canada plant and its surrounding ocean waters are located within the Haisla's traditional territory.
The e-tugs will be used to guide LNG tankers into and out of berths at the LNG Canada plant. All three tugs are ElectRA 2800 models designed specifically for their role near Kitimat by Vancouver-based Robert Allan Ltd., an privately-owned firm of consulting naval architects and engineers.
"Each of the three ElectRA 2800 are expected to eliminate approximately 1,700 tonnes of CO2 per annum, thus resulting in total annual savings in excess of 5,000 tonnes compared to even the cleanest modern diesel-powered alternatives," wrote Mike Phillips, a Robert Allan engineer, on the company's website. "This roughly equates to the carbon emissions of nearly 1,000 cars, which is a remarkable feat in the context of a relatively diminutive port, and again illustrative of the possibilities for some of the world's busiest marine hubs."
Each charging station located on board
Each tug's charging station "actually lives on board," and the vessels connect to onshore power sources, said Jordan Pechie, an executive vice-president with Seaspan Marine Transportation, as reporters toured the HaiSea Wamis in Vancouver's inner harbour July 10, in conjunction with the LNG 2023 conference.
"At our tug facility [near Kitimat], we have three connections for charging these harbour tugs," said Pechie. "We have three megawatts of power coming to the tug basin, so it's quite significant. So from almost zero discharge to full, it takes about four hours to charge."
All three e-tugs will use the same 5,288-kilowatt-hour Blue Whale battery, developed by Corvus Energy, a Norwegian-headquartered company that was founded in 2009 in the Vancouver suburb of Richmond and still has research, development and manufacturing facilities there. In 2017, Corvus received a $6.5-million revolving line of credit from Export Development Canada. The company has also received federal funding through the National Research Council of Canada's Industrial Research Assistance Program, more commonly known by its acronym IRAP.
"The batteries supply power to two 2,100-kilowatt Schottel azimuth stern-drive propulsion pods," said Percy. "Due to the flexibility of electric drives, power curves were programmed to be very similar to conventional tugs. However, we have set the response rate to be a little quicker."
The HaiSea Wamis was constructed at the Sanmar shipyards in Turkey, where the two other e-tugs are also being built. Pechie said the Sanmar site was chosen because Seaspan is using its North Vancouver shipyard to construct federally funded vessels as part of the national shipbuilding strategy and there is not enough capacity for the e-tug projects.
Spurring positive change
Haisla Nation chief councillor Crystal Smith said the electric tugboat projects are helping to spur positive change in Indigenous communities along the northern B.C. coast.
"In regards to the meaning of the tugs, they've definitely taken that whole aspect of environmental impacts and (reduced) it in a very meaningful way in regards to having one of the first electric tugs being operated in the entire world in the Douglas Channel, where our nation's territory is," said Smith, during the July 10 tour.
"So, partnering with Seaspan [on] HaiSea was, essentially, a no-brainer for our community."
The 12-year shipbuilding contract, which was signed in 2012, has also generated economic benefits for the Haisla, added Smith. She said the Haisla's unemployment rate is lower than it has been in many years.
"And, that's due to the employment opportunities, not only the employment opportunities, but the ability for our people to go for school to get meaningful jobs, meaningful careers," she said.
Tugs get Indigenous-related names
The Haisla and the Gitxaala and Gitga'at nations, through which LNG Canada vessels will pass, all played roles in giving Indigenous-related names to the three electric harbour tugs and two dual-fuel escort boats.
The HaiSea Wamis is named after the first Haisla explorer who sought sanctuary near Kitimat, while the HaiSea Wee'git deploys an Indigenous word for the raven, which is credited with getting things done and doing big things, such as bringing light into the world. The other e-tug's name, HaiSea Brave was chosen because all Haisla sports teams are called the Braves.
"It comes from the community, so it's a true, community-driven process," First Nations LNG Alliance CEO Karen Ogen said of the naming effort during the media tour of the HaiSea Wamis.
While seeking to reduce emissions, the Haisla and Seaspan also aim to reduce ocean noise. The HaiSea Wamis is extremely quiet and the recording sound quality was studio-like as Smith and other officials commented while hovering around its helm with the e-tug's battery running.
"It's awesome — I didn't even know it was on," said Ogen about the e-tug.
Pechie said HaiSea Marine is seeking an underwater noise notation, which verifies a reduction in sound pollution, from the American Bureau of Shipping for the HaiSea Wamis.
"So, an underwater noise notation basically means this is going to be the quietest vessel on the British Columbia coast," said Pechie.
Robert Allan has collaborated with the University of British Columbia, Dalhousie and Memorial University of Newfoundland on several Transport Canada-funded projects designed to predict underwater radiated noise of tugboats. Collaborating with HaiSea Marine, the naval engineering company will attempt to validate the predictions by using the HaiSea Wamis in a series of fully instrumented sea trials.
"These tugs provide a truly unique opportunity to accurately measure propeller noise across a full range of operation without the typical additional noise of diesel engines," said Percy.
The data can then be used to improve future tugs, inform regulators and operators about e-tugs' environmental benefits, and encourage future use of the vessels, he added.
HaiSea is putting the finishing touches on the second e-tug, the Wee'git, which is expected to set sail for Canada in early August, said Percy. The third e-tug, HaiSea Brave, and two dual-fuel tugboats are scheduled to arrive in Vancouver by the end of 2023.
R$