Making Northern connections
Leah Geller
February 15, 2023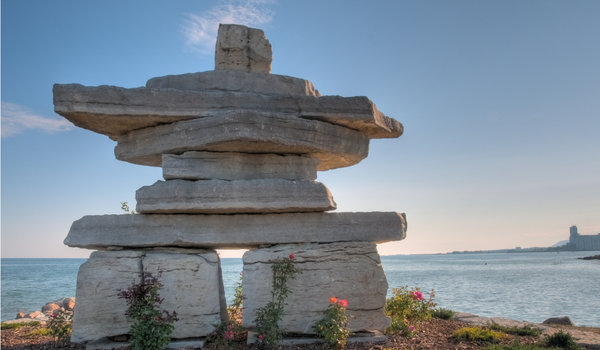 Most Canadians take their connection to an electrical grid for granted. The people of Nunavut, however, all live "off-grid", relying solely on diesel-fueled generators for their electricity and heat. That makes these basic utilities costly and polluting, as well as a contribution to climate change in a region that is feeling it more than other parts of the world.
Kivalliq, one of Nunavut's three defining regions, hugs the northern border of Manitoba and the western shores of Hudson Bay. About 10,000 people live here, most of whom are Inuit. For years, the Kivalliq Inuit Association (KIA) have envisioned infrastructure links to southern Canada, to provide cleaner and less expensive electricity, as well as more reliable access to the Internet.
"Nunavut is 20 percent of Canada's land mass, and yet it is the last remaining jurisdiction in the country that is not grid-connected," said KIA President Kono Tattuinee. "By connecting to the grid and delivering high-speed fibre-optic Internet, a hydro-fibre link can bring enormous social and economic benefits to the region. It could drastically improve tele-health, education and other services, while creating new business and employment opportunities for Inuit."
To make the Kivalliq Hydro-Fibre Link project a reality, the KIA joined forces with Rankin Inlet-based Sakku Investments Corporation, to create the 100 percent Inuit-owned Nukik Corporation, which oversees the project's development. The goal is to connect with Manitoba's grid, then span 1,200 kilometres to seven sites, including the communities of Arviat, Baker Lake, Chesterfield Inlet, Rankin Inlet and Whale Cove in Kivalliq.
The 150-megawatt transmission line with fibre-optic cabling would provide Kivalliq communities — as well as two mining sites — with power and on-line access, without the need for diesel fuel. Once completed, the Kivalliq Hydro-Fibre Link could reduce the region's greenhouse gas emissions by 366,000 metric tonnes annually, single-handedly meeting Nunavut's 40 percent reduction target by 2030, as well as contributing to Canada's broader climate objectives.
According to Anne-Raphaëlle Audouin, CEO of the Nukik Corporation, "The Kivalliq Hydro-Fibre Link…will enable Nunavut to, one day, send renewable electricity back to the North American network, contributing to Canada's 2050 net-zero objective."
Canada's Strengthened Climate Plan has invested $300 million over five years, to ensure that rural, remote, and Indigenous communities, currently relying on diesel, have the opportunity to be powered by clean, reliable energy by 2030. Building on this investment, Budget 2021 provided $40.4 million, over three years, to support the feasibility and planning of hydroelectricity and grid interconnection projects in the North.
For the Kivalliq Hydro-Fibre Link, the Government of Canada has already invested close to $12 million in this project. In 2019, the Canadian Northern Economic Development Agency (CanNor) put more than $1.6 million into the feasibility study, assembling technical data, conceptual design work, required permits, and government and stakeholder engagement. In 2021, CanNor committed another $3 million to the project, supporting geological and permafrost studies along the proposed route. It also covered traditional land use studies and engagement, with First Nation communities in Manitoba and Inuit in Nunavut, to ensure proper consultation.
In late 2022, Ottawa announced $7 million more, this time from Canada's Northern REACHE Program, while, the Canadian Infrastructure Bank provides ongoing advisory services.
Tattuinee recognizes the essential value of federal support, and he is looking forward to the upcoming federal budget as an opportunity for the government to show its further commitment to the project.
"There are so many federal priorities the Kivalliq Hydro-Fibre Link aligns with, including reconciliation and climate change, as well as Arctic security," Tattuinee told Research Money. "The Link will benefit not just the people of Kivalliq, but all of Canada, by helping us build and establish greater security in the North."
There is growing international interest in the Canadian Arctic for its natural resources and strategic position. Climate change and advanced technology has made access to the region easier than ever.
While a transmission line to Nunavut has never been built, other northern communities have successfully weaned themselves off a dependence on diesel-generation. Tattuinee is confident in the project's success, citing technology that is tested and proven, and ready to deploy right away. He believes that, as an Inuit-led project of this size and impact, the Kivalliq Hydro-Fibre Link is one of the most important and justified projects out there, and will constitute a historic step for Nunavut and the country.
"We are now at a pivotal moment where, together with our federal partners, we can demonstrate our commitment to safeguarding habitat and Arctic waters, while tackling a major infrastructure deficit and lack of equal socio-economic opportunities for Inuit and Nunavummiut. Nunavut and the Kivalliq Region have a legitimate right to become grid-connected — and access the same prosperous future as all other Canadians."
R$