Collaboration spawns more funding for BC ocean protection
Monte Stewart
February 8, 2023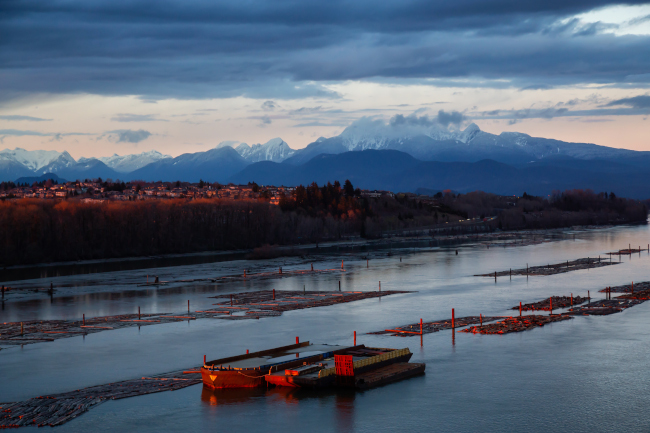 Ottawa is beefing up collaboration with Indigenous groups on research and other projects designed to expand ocean protection and marine safety in British Columbia and other parts of Canada.
A call for proposals to prevent oil spills, under the $30.3-million Multi-Partner Research Initiative (MPRI), closed in January. The initiative is one of many endeavours on which the federal government, academia, and other groups are partnering under Ottawa's $3.5-billion Ocean Protections Plan (OPP), which spans a number of federal ministries.
"These communities have deep traditional and cultural ties with them Canada's oceans and waterways," said Natural Resources Minister Jonathan Wilkinson, explaining why the spill-response program was launched.
Wilkinson's ministry is responsible for the MPRI, which formerly fell under Fisheries and Oceans Canada. The MPRI will provide the funding over five years.
"Through efforts such as the Multi-Partner Research Initiative, we're going to find better and more efficient technology and methods for responding to spills and minimizing impact on the environment," said Wilkinson.
He said the MPRI will draw upon experts from around the world and include Indigenous communities, industry, academics and spill-response organizations.
Wilkinson made the comments at a November news conference at HMCS Discovery in Vancouver's Stanley Park, where federal officials expanded on a $1.2-billion boost, provided to the OPP in July 2022, bringing Ottawa's total investment to $3.5 billion.
The boost includes $890.3 million, for 19 initiatives designed to improve marine safety and incident response, and $337.3 million, for 10 projects intended to build ocean-protection partnerships between Indigenous and coastal communities. Indigenous leaders praised the efforts during the news confence.
"This [collaboration effort] has been challenging work, which often required federal officials to bring a fresh lens to looking at the issues we're working on together," said Marilyn Slett, chief of the Heiltsuk First Nation, based on B.C.'s central coast, during a follow-up news conference in Vancouver, offering more details on the OPP expansion.
"I think both sides have learned a lot through this experience. Most importantly, we have built a respectful relationship and ability to listen and act in a progressive and pragmatic manner to advance oceans protection. At the regional level, the themes we've worked hardest on together are building collaborative governance, management and reconciliation, and detailing a world leading shipping, marine safety, and incident response system, to protect ocean ecosystems and coastal communities."
Accident prompted action
The Heiltsuk decided to engage with senior governments, to improve marine emergency response after a fuel barge, carrying gravel and sand, flipped and sank during severe weather, in the First Nation's waters near Bella Bella, B.C., in 2016. The incident occurred after a tugboat and the barge, owned by the U.S.-based Kirby Corporation, ran aground. Although the barge was empty, the tugboat pushing it subsequently ran aground, spilling diesel fuel into the ocean.
As a result of negotiations with B.C. and federal officials, the Heiltsuk signed a memorandum of understanding on a local emergency response team. Slett said the governments have now agreed to implement the emergency response team, and the Canadian Coast Guard is providing $5 million.
"I believe the work we're doing here in B.C. with the Oceans Protection Plan is a real living example of how a reconciliation [with Indigenous groups] looks like," said Slett. "We are committed to continuing to do the hard work of demonstrating how federal departments can work in partnership with Indigenous peoples to build a safer, more inclusive Canada."
Federal Transport Minister Omar Alghabra, partnerships with Indigenous peoples, coastal communities, industry and academics have been the cornerstone of the OPP. He said Ottawa has developed the enhanced maritime situational awareness program with 13 First Nation partners nationally, is training 750 students — including Indigenous peoples and northerners — for future work in the marine industry.
The $337.3 million from the new $1.2-billion investment, he added, will enable Indigenous people and coastal communities to play a more meaningful role in marine safety, and partner with Ottawa on decisions.
Variety of initiatives
The 10 projects, designed to build ocean-partnerships between Ottawa and Indigenous and coastal communities, cover the expansion of the enhanced marine situational awareness program, the renewal of a marine jobs training program, aimed at underrepresented groups, including women, Indigenous peoples, northerners, and Inuit, and expanding a marine dialogue program from the West Coast to other parts of Canada. Others include:
Renewing an Indigenous boat volunteer program, which funds emergency response vessels participating in the Canadian Coast Guard Auxiliary;
Continuing a reconciliation framework agreement designed to manage, protect and restore the Pacific North Coast;
Renewing funding of local and Indigenous communities, and organizations, developing Canada's marine system;
Marine search and rescue training opportunities in Indigenous communities;
Establishing summit meetings with Indigenous communities on transportation and supply-chain issues, and improvements in B.C.'s Salish Sea region, (inland Pacific waters that span the Canada-U.S. border and include the straits of Georgia and Juan de Fuca on the Canadian side and Puget Sound, in Washington state.);
Co-developing Indigenous-led bird monitoring programs; and,
Improving vessel management through collaboration between Indigenous partners, the shipping industry and other users.
"These relationships with all our indigenous and local partners must not only continue, but grow for the next phase of the oceans protection plan to be a success," said Alghabra.
Indigenous groups are pleased that Ottawa understands the high regard that First Nations have for collaboration, said Dallas Smith, co-chair of the Reconciliation Framework Agreement for Bioregional Oceans Management, and president of the Nanwakolas Council, governing six First Nations on Vancouver Island and the B.C. mainland .
"It's easy to talk about the investment," he said. "We're appreciative. And, I think it's a long time coming. I think the work that Indigenous communities are doing and collaborations with the federal government are the only way forward when it comes to ocean protection and meaningful management going forward."
He said Ottawa and Indigenous groups have learned from the tragedy of the 2016 incident near Bella Bella, and processes to mitigate future incidents are in place.
He praised Joyce Murray, the minister responsible for fisheries, oceans and the Canadian Coast Guard, for having "tough discussions" with First Nations leaders, as well as responding positively to criticism.
"We work at a technical, bureaucratic, and political level in this process together," said Smith, referring to Indigenous groups and Ottawa. "We've been doing it long enough now, that I'm not even sure whether this [OPP] was our idea or [the federal government's] idea. But the fact is, this is our idea now that we're collaborating on together."
Reconciliation, he added, can only happen "in the trenches." Therefore, more tough discussions between Ottawa and Indigenous groups, on issues like aquaculture, are necessary.
"We want a Blue economy, we want to do all these things going forward, but we can't do it in isolation of each other," said Smith. "And, it's only through initiatives like this [Oceans Protection Plan] that we're really going to be able to see that big picture together and continue to work towards it every day."
R$