Rocket launchers awaiting federal legislative update
Elizabeth Howell
June 21, 2023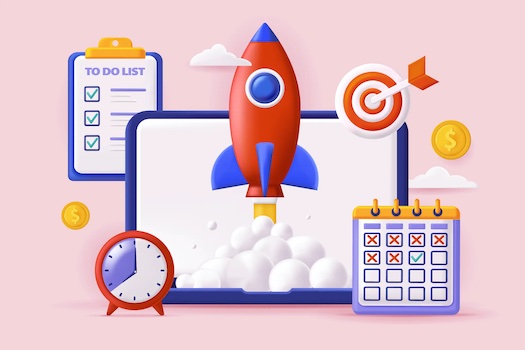 Canada's Maritime Launch Services (MLS) is working closely with government to do the first space launch in a quarter-century, perhaps as soon as by next year. But routine access to space will require regulatory changes in the long run — something the Canadian government is committed to, yet may take years to achieve.
Back in the early space shuttle era of the 1980s, some observers thought that access to orbit would be routine. Satellites would be deployed from the shuttle's payload bay at a lower cost than expendable rockets. US policy even briefly stipulated the shuttle would be used for satellite deployments, but that changed after the Challenger disaster of 1986.
The shuttle was a mighty spaceship, crucially building the International Space Station among many other achievements. But as a platform, it never demonstrated the promised cost-savings features for a variety of reasons including the unexpectedly frequent need to replace the hull's reusable tiles and a long list of safety requirements that lengthened the interval between launches.
Perhaps not surprisingly, then, Elon Musk's SpaceX subsequently took over the US satellite market with a fleet of reusable rocket. In 2023 alone, the California-based company has sent its Falcon 9 or Falcon Heavy rockets aloft more than once a week, carrying everything from the firm's own Starlink satellites to high security government payloads.
Now Canada is eager to establish its own independent launch capability, for a number of good reasons: national security, easier access for satellite vendors, and an opportunity for Canadian companies in this field to shine. Nor is any of this unprecedented, as the country's space program once famously included Black Brant atmospheric sounding rockets, which were used to study the aurora borealis and other high-altitude atmospheric phenomena.
Canada conducted more than 3,500 launches of these small rockets from northern Manitoba between the 1950s and 1981, according to archived Canadian Space Agency materials. A few other sites in Canada also sent payloads briefly to space, but there has been nothing since a private launch in 1998 from Churchill, MB, according to satellite tracker and Harvard Smithsonian astrophysicist Jonathan McDowell.
Meanwhile, in addition to mounting thousands of space launches by ourselves, Canadians have also been sending their satellites to other countries since the dawn of the Space Age — starting with one of the world's earliest, Alouette, in 1962.
CubeSats and rapid launch
Shortly after that last launch from Canada, the international space market began a major shift. This activity used to require huge rockets and government backing, either directly or through closely allied companies like Europe's Arianespace. In 1999, however, compact CubeSats — no bigger than a microwave oven — were developed jointly by California Polytechnic State University and Stanford University. The first fleet of these tiny satellites went up in 2003, setting the stage for a new generation of orbital products. New markets opened up for key applications, such as Earth observation, for weather or agricultural data, or broadband communications access. New companies soon emerged to fill this demand.
Canadian companies quickly took advantage of supporting roles, but the more populous United States and Europe took the lead, focusing on launch access. As those governments sought space station shipment services, they supported companies with the ability to develop their own independent access to space. SpaceX became the iconic example, but other such as Planet, SES, and now-defunct, Vancouver-based Urthecast, were formed — or expanded — in the wake of cheaper space access.
Despite calls for Canada to invest in its own launch capability, such as the November 2012 Emerson report to government, the country did not do so. Canadian astronaut Marc Garneau — speaking in his role then as a Canadian Member of Parliament — told the Ottawa Citizen in 2014 that any such facility would have to be funded by government and was thus too expensive. Even a 2019 space strategy for the Canadian Space Agency did not mention independent rocket launching as a direction, although to be fair, this initiative likely would have fallen under the purview of Transport Canada, just as an equivalent agency, the Federal Aviation Administration, regulates launches in the United States.
Nevertheless, the 2019 strategy did acknowledge the prospects of the rapidly growing launch industry and "disruptive technologies and advancements [that] have changed the economics of building and launching spacecraft." That observation reflected the growing international access to space over the past decade. One notable example is Rocket Lab, which specializes in sending small satellites to space from no less remote a setting than rural New Zealand. And while the Canadian government may not have wanted to underwrite such a venture, in 2016 Maritime Launch Services (MLS) was formed to send satellites into orbit from a similarly rural location — the District of Guysborough, on Nova Scotia's eastern coastline, several hours' drive north of Halifax.
Since then, MLS has worked closely with local authorities and Ottawa to realize the company's vision. Nearby residents are already on-board, district Director of Economic Development Gordon MacDonald told Research Money, following numerous public meetings on everything from economic opportunity to environmental concerns. Ottawa, for its part, has pledged to review the country's regulations for space launches, which date from the late 20th century. And to speed up the work of MLS, the federal government has also promised to apply the existing rules to allow for launches on a "case-by-case basis".
Such regulatory accommodation is especially exciting for MLS CEO Stephen Matier, who sees the government prepared to collaborate with launching companies.
"We've been working with our federal partners to get to that point of publicly making that statement," he told Research Money during an interview in late April. "Yes, we're going to build a framework for launching states, but there is already a framework that exists, that we can use on a case-by-case basis."
Mindful of a recent incident in the United States that saw a SpaceX Starship explode during a test launch and rain debris into the ocean and around nearby communities, Matier argued the existing regulations are there for good reason. He insisted they will be updated carefully, for efficiency in facilitating launches, as well as respecting a broader suite of environmental, legal, and Indigenous concerns.
He also described MLS as committed "to make sure that we're protecting the people in the facility, in the land and waters, and that we can safely conduct launches on an interim basis, based on previously used launch regulations."
Public comments invited in the spring
The Canadian Space Agency invited public comments on the regulatory process through April 4, which the CSA has promised to publish as a "What We Heard report" sometime "in the coming months". Nor is this the only government body with an interest in the matter. Besides the Canadian Space Agency Act, CSA officials point to a legal framework including Transport Canada's Aeronautics Act, dealing with aircraft and rocket licensing and movements, and the Canada Radiocommunication Act, administered by Innovation, Science and Economic Development.
Other regulations may fall under the Export and Import Permits Act (covering the movement of goods or data across international borders), numerous United Nations treaties for liability, registration, and other good-faith behavior, legislation concerning the environment and fisheries, and activities overseen by the Department of National Defence. Indigenous and Northern Affairs Canada, as well as local Indigenous groups, will also require a consultation process.
Traditionally, Canadian space entities have proceeded by collaboration – undoubtedly a good thing for a country with a comparatively small tax base and population. By spreading resources among multiple departments, the overall budget can be increased by money that arrives from different government "pools." Collaboration also allows for a similar sharing of subject matter expertise in different domains, which should increase the calibre and resilience of projects.
On the other hand, this collaborative approach is bound to move more slowly, affecting the pace of rocket-launching approvals in a fast-growing market. That challenge provides the rationale for streamlining regulations, a move that will depend on the current minority government retaining power long enough to finish the job. Revisions have been under way throughout 2023, and will garner even more public attention later this year, with the launch of a small, university-student rocket from the Nova Scotia site.
Whether that milestone will be enough to carry the legislation forward is anyone's guess, but one thing is for sure – Canada will want to get its own space access soon, if it wants to secure a place in an increasingly competitive international market.
R$