R$2023: panelists call for revved up auto roadmap
Monte Stewart
April 26, 2023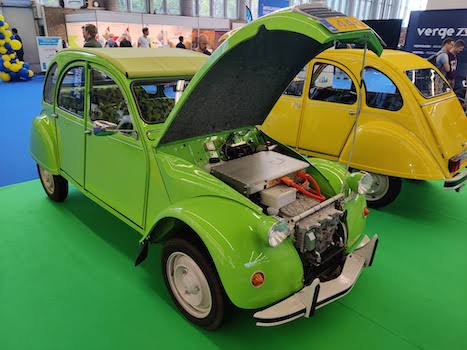 Canada needs a private-sector-led national industrial strategy that can rev up the research and development necessary to commercialize the country's electric-vehicle ecosystem, say automotive industry experts who participated in Research Money's 22nd annual conference in Ottawa last week.
"The key message for government is that not having a strategy for important strategic areas of our economy is a big mistake," Peter Frise, the University of Windsor's associate dean of engineering, said in an interview.
"It has hurt Canada, it is hurting Canada now, and it will hurt us in the future."
During a panel discussion on industrial policy for the auto sector, Frise, Joe Loparco, co-president of automotive parts manufacturers and suppliers AGS and Tiercon, and Asad Farooq, director of sector and cluster development at the Ontario Vehicle Innovation Network (OVIN), called on Ottawa to introduce a strategy that emphasizes investment and innovation, rather than only job creation.
Such a strategy is needed, the panelists claimed, to help Canada's EV sector in the race to compete globally as automakers shift away from traditional vehicles powered by internal-combustion engines.
Industry needs to set targets
"I would allow the industry to define the research and development targets, and I would allow the industry to lead the projects, like the Americans do," said Frise during the panel discussion. "Throwing a university at every problem is a bad strategy. It will not work. It has not worked. It's never going to work."
Frise and other panel participants spoke a day before the unveiling of details surrounding billions of dollars worth of federal investment in a previously announced $7-billion Volkswagen EV battery manufacturing plant in St. Thomas, Ont. Confirming media reports that broke earlier in the day, Industry Minister Francois-Philippe Champagne told reporters in Ottawa that the federal government will provide an unprecedented $13 billion in production subsidies and $700 million in additional support for nearer-term capital costs of the plant, which is slated to open in 2027.
The St. Thomas plant is one of at least two Canadian battery manufacturing facilities, along with a Stellantis-LG Battery Solution joint-venture in Windsor, Ont., expected to come on stream within the next few years.
Frise said the St. Thomas and Windsor plants have changed the trajectory of the Canadian auto industry. Historically, Canada has played a limited role in internal-combustion engine and parts manufacturing.
"But the fact of the matter is, we are getting into the power train way deeper than we used to be, because we're going to make the battery," said Frise during the panel discussion. "And, the battery is somewhere between 30 percent and 50 percent of the value of the car. It is, by far, the most valuable component in an electric vehicle, and we are going to make batteries. So that is a game changer, an absolute game changer."
But he added that the Windsor facility's estimated 2,500 direct-job total is relatively small, compared to the employment traditionally generated by auto manufacturing plants. The strict technical demands of assembling EV-ready batteries, which will require "clean rooms" to prevent contaminants from compromising internal components and limiting their energy-storing potential, mean most of the process will be conducted by robots.
"And, there will be almost no jobs in those factories for your typical grade-12 graduate auto worker," said Frise, noting that most occupations will be filled by engineers, robotics programmers, and skilled-trades workers.
An existential crisis
The federal investment in the St. Thomas plant is designed to match a subsidy available under the U.S. Inflation Reduction Act. But more than battery production is at stake, the panelists contended. While developing an EV battery sector, the entire Canadian auto industry, which has essentially served as a subsidiary of its U.S. counterpart, must revamp itself. For all their novel aspects, EVs contain most of the same components found in today's conventional vehicles, although these will have to be lighter and more technologically advanced than ever before.
During the panel discussion, Loparco said Canada's auto sector, which has seen its global market share decline and lag all rivals since the mid-1980s, is about to experience "an existential crisis", due to strong demand for EV-related technology amid "staggering" competition.
"So, I would say the danger metre is way up there," said Loparco. "We urgently need to innovate and get in gear."
In an interview, he said innovation, always extremely important in the auto sector, has become critical.
"If we don't compete through innovation and productivity," he said, "we're going to lose the advantages we have — and, potentially, continue to decline."
If Canada misses its window of opportunity, he added, manufacturers will move their operations outside the country, and it will be very difficult to get them back. When it comes to battery development, he contended, Canada trails countries like China, Korea, and Japan, which have made concerted investments through a very focused industrial policy approach.
Farooq, who also serves as OVIN's acting director of strategy and programs, echoed those sentiments. In addition to converging battery and critical mineral production, he argued, the Canadian EV industry needs to converge microchips with information technology.
"The cars that we operate today are, more or less, all connected," Farooq said.
R$