R$2023: facing up to friend-shoring
Elsie Ross
May 3, 2023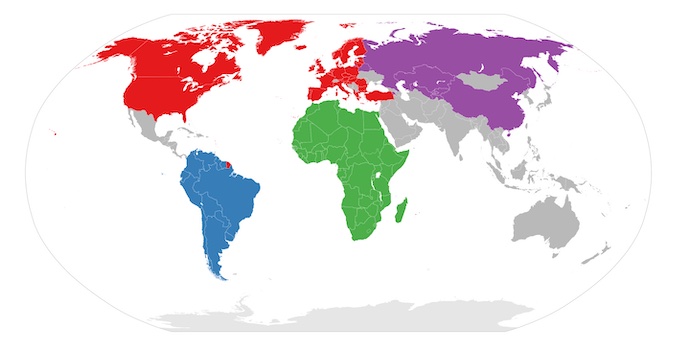 Canadian political leaders have been heard using the term "friend-shoring" to signal Canada's desire to shift its research and trade collaborations away from regimes that do not share this country's outlook on democracy or human rights. A panel at this year's Research Money unpacked the meaning and implications of this turn of phrase, which included a warning about Canada's need for a plan.
"If we don't have a very clear strategy, we're going to find ourselves at the mercy of other people's strategies," Melanie Cullins, National Research Council (NRC) Director General and National Project Coordinator for its international arm, told a panel session on friend-shoring and innovation.
"There's a million different things that we can do on the international front," added Lissa Matyas, a consultant who was previously Vice-President of Global Government Affairs at the Canadian Institute for Advanced Research (CIFAR). Without a clear path forward, however, "it's not going to be cohesive and it's not really going to get us anywhere. Until we really know what our strategy is, it's really hard to choose our friends and to be really invested in building those trusted, long-term partnerships."
The NRC's strategy has been to build up a solid infrastructure for enabling international co-operation and to make choices, said Cullins. "We have worked with friends and we've decided to make a bigger investment in those countries and build the relationships we need so that we can talk about best practices, we can talk about our innovations."
At this point, she explained, it will eventually become possible to install the right mechanisms to work together. "We start to have the trust we need to be able to do more. So I think we're on a good path with many of the friend-shoring discussions but I do think there's still a long way to go."
While a strategy is important, it needs to be long term, said Nicole Arbour, Executive Director of the Belmont Forum, an Uruguay-based international organization funding multi-lateral environmental projects. "We need to be thinking about where do we want to be and where do we want our population to be. Not in three or four years — that is important — but further out. And we need to think about what are those strategic partnerships going to look like then."
Matyas described Canada as being in a good starting position, as a popular partnership choice for many other countries. However, she cautioned against limiting our options.
"We've turned our nose up at a lot of countries that could be really important for us, because we're very good at research, and they're very good at commercialization," she said. That combination often generates fear about losing intellectual property (IP) to friends, who then go on to become competitors. In that light, joint collaborations can negotiate IP from the start, so participants will know what they are going to put in and what will be shared.
Arbour was optimistic about the many opportunities for Canada to broaden its relationships beyond historic alliances. "I think we lose something by not thinking about who are those other partners out there and how we can engage more effectively with them," she said.
Matyas pointed to the distinct populations of those prospective partners with the greatest potential. "If you look at the global demographics, it's the low- and middle-income countries (LMICs) that have the most opportunity in terms of the needs for infrastructure," said Matyas. "The population of young people is much higher, and so there's going to be growth in those markets and lots of opportunities for Canada."
And despite the importance of friend-shoring, Canada can't simply say that first it will work with its usual partners, then eventually work with LMICs, she said. "I think that we really need to think about that. We're in this together, we need to do this together, and how do we do something that's truly global?"
She also pointed to models for this kind of international collaboration, such as the European Commission. EC programs put the money up front, trusting they will not get taken advantage of, while simultaneously tailoring programs to benefit Europe more broadly.
"The way that they structure things is about how a rising tide raises all ships," said Matyas. "It's really about how can we all come together to collaborate and move the needle on a specific global challenge."
For her part, Cullins insisted Canada needs to put a concerted effort into convening with others. She cited her own experience with another European initiative, the Eureka network, which began in 1985 and now includes some 350 projects in dozens of countries, in Europe and beyond. Canada's participation has fostered co-innovation, helping Canadian companies engage with international partners, which should be the desired outcome for any thoughtful friend-shoring initiative.
"Thinking through the strategic objectives and bringing people together, giving them the tools they need to be able to create an effective proposal, making sure they've really thought through the project management and dissemination — the whole of the picture."
R$