Investing in a climate-resilient future: The economic case for climate-aligned finance
Guest Contributor
July 5, 2023
By Rosa Galvez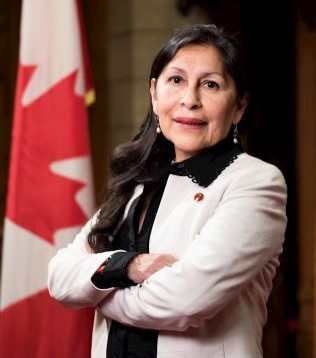 Rosa Galvez is an environmental engineer, a professor at Laval University, and has served as an Independent Senator in Canada for the province of Quebec since 2016. She is a member of the Senate's National Finance Committee.
As wildfires relentlessly ravage our country and the world at large, the argument for a swift transition from fossil fuels to renewables grows stronger. This is not simply an environmental issue, but a comprehensive economic one.
The notion that a quick shift to renewable energy isn't practical or sustainable is a common misconception that overlooks significant advancements in technology and policy. The proposed Climate-Aligned Finance Act (Bill S-243), which I sponsored last year in the Senate and has since been endorsed by more than 120 organizations from coast to coast, stands as a testament to the feasibility of such a transition.
We must recognize that such a transition is not just practical but also the most sustainable way forward for our economy. Climate change has already made Canada warmer, wetter and less prosperous over the past 40 years, reducing our 2021 GDP by $20 billion. Looking ahead, climate impacts will slow Canada's economic growth by $25 billion annually by 2025, equal to 50 percent of projected GDP growth. The same report reveals that low-income households could see income losses of up to 19 percent and job losses could escalate to 2.9 million by the end of the century in a high-emissions scenario.
Despite these stark realities, there is an undeniable silver lining — proactive adaptation measures and stringent global emissions reductions.
Quebec's successful clean energy promotion policies serve as prime examples of how jurisdictions can lead the way in transitioning to renewable energy. Through initiatives such as the 2030 Plan for a Green Economy, historical investments in hydropower, and being the first jurisdiction in the world to ban oil and gas exploration, Quebec has reduced its carbon footprint to less than half the Canadian average while driving economic growth and job creation in the clean energy sector. While we may be on a treacherous path, a navigable route to a sustainable and prosperous future is within our reach.
First, we must address the complexity of the energy demand. The conversion of sunlight into substantial energy and the insatiable power appetite of the digital industry indeed requires intricate engineering. However, it is exactly within these challenges that innovation thrives. With the continuous advancement of technology, efficient and effective renewable energy solutions are being developed and scaled up at unprecedented rates. These are not simply potential solutions; they are active and flourishing facets of our energy landscape.
The argument that biofuels place undue pressure on food production through land occupation is not an inescapable reality. Rather, it is an opportunity for innovation and symbiosis. Techniques such as vertical farming and precision agriculture can significantly enhance food production efficiency, freeing up land for sustainable biofuel production.
The rising Indigenous economy, anticipated to reach $100 billion in the coming years, presents a significant opportunity. By partnering with Indigenous communities to develop sustainable agriculture and renewable energy projects, we can foster a resilient, inclusive economy that aligns with our climate goals while healing through reconciliation our relationship with Indigenous people and nature.
Transition to renewables is doable
The assertion that Canada's natural gas can offset emissions elsewhere due to its comparative cleanliness overlooks the vital need for rapid and ambitious emission reduction. While our natural gas may indeed be cleaner than other sources, it is still a fossil fuel. It still contributes to the global carbon footprint.
As responsible global citizens, our focus should not be on offsetting emissions but on transitioning to renewable alternatives. With wildfires growing, the use of forest as offsets is already at risk. We are running out of time; we must accelerate implementation of mitigation and adaptation.
By aligning our financial system with our climate goals, we are not only contributing to global efforts to mitigate climate change but also fostering a resilient economy that stands to benefit all Canadians.
Yes, the transition to a renewable energy economy is a significant undertaking. However, the assertion that this task is impractical or unsustainable overlooks the technological strides we have made and the economic benefits that such a transition promises. The Climate-Aligned Finance Act recognizes the reality of our situation and provides the tools necessary to facilitate this vital transition.
In the face of global climate challenges, we must not be deterred by the perceived difficulty of our task. The costs of inaction are far too great. Now, more than ever, we need courage, innovation, and swift action. The future of our economy and our planet depends on it.
R$