Access to innovation spurs regional diversification and growth
Guest Contributor
December 12, 2018
Colleges play a critical role in providing necessary support for the cluster development that allows communities to persist and thrive.
---
By Dr. Mehdi Sheikhzadeh, Executive Dean, Applied Research & Innovation, Lambton College
Cluster development is essential for community survival and development. It can help diversify industry to ensure communities are not overly reliant on one sector, while creating an ecosystem that simultaneously stimulates the growth of Canadian SMEs and attracts international players to the area. A case study of the Sarnia-Lambton region highlights both the necessity of thinking long-term about regional cluster development, and the active part that colleges play in cluster building through efforts such as providing infrastructure, bringing together partners, and providing research and development (R&D) for SMEs.
The Sarnia-Lambton region is home to a major cluster of petrochemical and refining plants specializing in petroleum and petrochemical products including plastics, synthetic rubber, and chemicals. Additionally, the region has a long history in agriculture, and a significant proportion of the rural population is employed in the sector.
Grounded in strong community direction to diversify the economy by building a new industrial cluster, the Sarnia-Lambton Bio-Hybrid and Chemistry Cluster was established in 2007, merging and building on the strengths of the hydrocarbon-based and agriculture economies. The first and only one of its kind in North America, the Bio-Hybrid and Chemistry Cluster creates synergies between the traditional petrochemical industry and the bio-based chemical and biofuels industries. In this Cluster, bio-based SMEs bring strong innovative and entrepreneurial skillsets to technology development initiatives. The Bio-Hybrid and Chemistry Cluster has been formed through strong partnership aong community players including Bioindustrial Innovation Canada, Western Sarnia-Lambton Research and Sarnia Lambton Economic Partnership.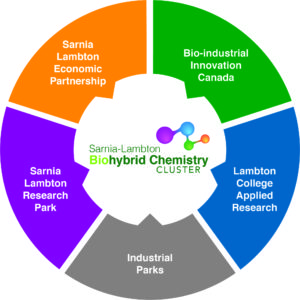 Key Partners in Building Sarnia-Lambton Bio-Hybrid and Chemistry Cluster
The Bio-Hybrid and Chemistry Cluster initiative has resulted in the attraction of SMEs to the region for pilot and production plant installation and operation. This vision has successfully contributed to more than $350M in investmentand created more than3,500 jobs. These companies are not only Canadian-based but international as well, offering a wide range of novel bioindustrial processes and technologies.
Many of these technologies need to be validated, improved, automated, optimized, and scaled-up for commercialization and full production purposes, which creates a critical need for R&D. Lambton College is the only education and applied research provider in the region to support the Cluster.  One of four pillars in Lambton College's Strategic Plan (2013-18) was directly supporting innovation and cluster building for the Community through establishement of the Centre of Excellence in Energy & Bioindustrial Technology.
To support the Centre of Excellence, the Bioindustrial Process Research Centre (BPRC) and Lambton Energy Research Centre (LERC) were established to provide applied research, technical services, and innovative solutions to industry and SMEs. Both BPRC and LERC have stimulated economic development and technology transfer to partners across the province, and their success has been a critical factor in building the Sarnia-Lambton Bio-Hybrid and Chemistry Cluster. To date, these two research centres have provided more than 150 projects and services with industry.
Additionally, the Community is now embarking on a new cluster initiative to establish Digital Technology and IT Cluster. To support this cluster building, Lambton College established the Information Technology & Communication Research Centre (ITCRC). The latest Centre was designed to align with national and provincial innovation strategies and opportunities as Sarnia-Lambton works to position itself to build capacity and contribute to the emerging digital sector by establishing its own.
Currently, more than 70 per cent of these collaborative projects are being conducted with non-local businesses and research activity growth has helped showcase Lambton College as a place for applied research, development, and access to highly qualified personnel. Some of these companies have already started the discussion with local incubators and organizations to relocate partially or completely to Sarnia-Lambton.
Furthermore, Lambton College, in collaboration with key economic community partners, has raised the profile of the Sarnia-Lambton region as a community for innovation-led industries, providing support to SMEs to develop, evaluate and commercialize innovative technologies while strategically diversifying the local industry and creating economic sustainability.
The Sarnia-Lambton experience highlights an important policy issue that colleges are helping to address. It can be very risky economically for communities to rely on one industry due to uncontrollable sector variables including connection to commodity prices, feedstock availability, political factors, environmental influences, and changing government and regulations. Because of these uncertainties, it is important for regions to look at diversifying the local industry focus to maintain a healthy and prosperous community.
When an industry sector in a community declines or stagnates, it also affects the viability of local supporting companies. Through utilization of existing infrastructure, expertise, and enhanced innovation, communities can build new clusters, attracting to their community new industries that will create economic and social impact such as jobs, investment, exporting opportunities, and new customers for supporting companies.
For new clusters to be developed successfully, it is imperative to have access to research and innovation resources. Small and medium-sized enterprises (SMEs) require R&D support to create, or improve, existing products, processes and technologies for commercialization.  However, new companies, specifically SMEs, do not often have R&D capacity, and when they do their R&D is very limited and focused on their technology rather than multi-faceted support, which is required for commercialization and full-scale process development. This reality can create an innovation gap that hinders the growth of both SMEs and their communities. As illustrated by Lambton College, colleges can fill this gap through applied research initiatives.
By providing essential R&D services to local SMEs and initiating cluster-building initiatives, which in turn supports regional diversification and strengthens communities, colleges and institutes play a vital role in Canada's economic growth.